Bosch Circular Saws
Does Bosch Circular Saws Fit in your Arsenal of Power Tools?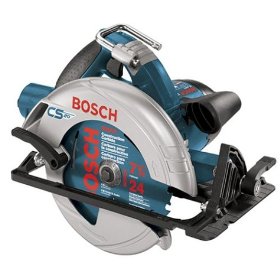 Bosch gears are always known for their sleek look and great performance. Bosch thus brings to you their line of
Bosch
Circular Saws. Known for being sturdy and high performance tools, these are one of the finest in the line of circular saw in the market.
Bosch saws come with their own good and bad features. Purchasing These circular saws or any other for that matter totally depends on your carpentry requirement and pocket needs. Some widespread Bosch saws with their features and drawbacks are:
Bosch saw 1677M
This is a worm drive/hypoid saw featuring a unique waffle patterned base plate. It is power packed with a 3 horse power motor that runs at approximately 4,400rpm. This saw is easy to use since its handle has soft grips and has a good balance while cutting through material. Also features built in hook to enable you to hang the saw on joists and rafters nearby. However, it does lack some features comprised by other saws around, like rubberized levers and an Allen wrench.
Bosch's CS20 15 Amp 7 1/4 inch
This lightweight circular saw with direct connect is one of the most favorite among users. So if you accidentally cut the cord, you could simply replace it with any other extension cord and not wait for a cord to come through from Bosch. Fantastic features such as built-in rafter hook which comes to use while climbing ladders, a clear line of sight and the user friendly large bevel and depth adjustment levers make this Bosch saw an impressive piece of equipment.
The downfall however, is the fiber composite base which is light but a tad bit flexible. Bosch Circular saw users would also like a replacement aluminum plate like other good quality saws have.
The Bosch
saw 1678
A saw which is 7 to1/4-inches with the motor on the right of the blade makes it user friendly for right hand consumers. This 15lb Bosch saw comes with the top handle thus making it comfortable to use. The fine-tuning of the 90 degree cuts is taken care by the set screw with ease and precision. The main features of the saw are a bevel capacity of 50 degree with a halt at an angle of 45 degrees. This circular saw has great power, sturdy construction, but short life, a drawback experienced by some users. Furthermore, some users also experienced packaging problems with the blade not being secured in the box causing a little damage to the footplate.
Bosch Saw 1655
This saw is packed with an auxiliary lever which is for blade guard retraction. This feature is very useful when it comes to cutting steep compound angles and or notching them. It also equips a sturdy handle which makes it convenient to use. Furthermore, it comes with a lever to release that allows change up to a level of 50 degrees and the bevel adjustment has a stop at 45 degrees.
This Bosch saw equips height adjustment and also these saws have calibrations for lumber thickness and plywood. However, you have to read the numbers through the place where you hold and that makes them tough to read.
Bosch
Circular Saws do make a powerful investment but users have gone for its competitors when it comes to durability and power. That said Bosch does not leave its mark to be one of the boss and leaders in the market.
Return To Main Tool Reviews Page
Return From Bosch Circular Saws Page to Home - Finishcarpentryhelp.com.
---