Milwaukee Circular Saws
Thinking of Buying a Milwaukee Saw? Check out The Reviews Here
Milwaukee Tool Corporation is an industry leader in manufacturing and marketing heavy-duty and handy electric power tools and accessories. Milwaukee present to you their range of Milwaukee circular saws designed for professional users and Do-It-Yourself 'ers.
A great piece of wood work needs a great log, great maker and of course a great tool to help the maker. Milwaukee saws deliver that and much more with their precise and user friendly features. Some circular saws that users have used and reviewed are as follows.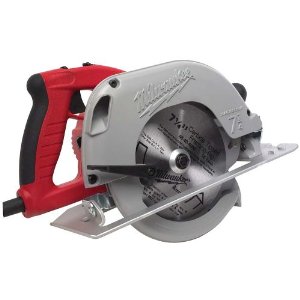 Milwaukee 6390-21 7-1/4-Inch 15-AMP Tilt-Lok Circular Saw
Milwaukee Saw with 7-1/4 Inch saw blade and 15 Amp power:
Products with these specifications include the Milwaukee 6391-21, 6390-20, 6390-21, and 6394-21. Users have found these saws powerful enough for rugged use. With smooth controls and power makes deep cuts through solid material easy. A great feature with the Milwaukee Saw 6391-21 is that you can easily see the blade and the cut line through an opening. The Tilt-Lok facility that some have in this genre makes it easy to cut straight through thin material. With clearly marked wide plate in the 6390-20 it is easy to read markings and rip. The placing of the handle in this circular saw makes cutting smarter, safer and accurate. The 6394-21 comes with a quick-Lok cord and has a fantastic guide visibility.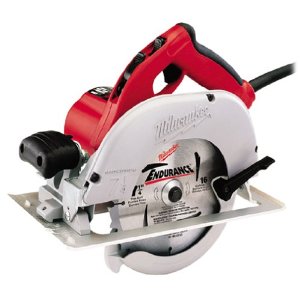 Milwaukee 6391-21 15 Amp 7-1/4-Inch Circular Saw with Blade on Left
Certain disadvantages noted with this range are:
The handle on the products are bit tight making it difficult to loosen it. If one has to replace the detachable cord that comes with the Milwaukee circular saws, it has to be ordered from Milwaukee Corp, which turns out to be a bit expensive. Few users have also said that the Tilt-Lok feature is not that impressive. A complain for the Milwaukee saw 6391-21 is that it gets stuck after ripping through approximately 3 feet and deviates from the straight line. The Milwaukee saw 6394-21 that features power assisted electric brakes is not that good.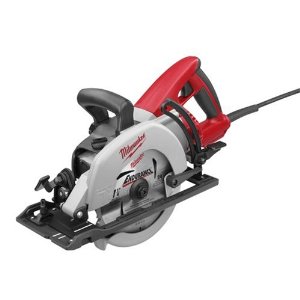 Milwaukee 6477-20 7-1/4-inch Worm Drive Circular Saw
The Milwaukee saw with 8 inch blade
is a range for cutting metals. Include products 6370-20 and 6370-21. These saws are packed with 13 Amp making them powerful enough to cut through #12 rebar. These mean tools delivers faster and accurate metal cutting. Reviews indicate that these saws give out very few sparks while working, making cutting through metal a cooler job.
Milwaukee 6370-21 13 Amp 8-Inch Metal Cutting Circular Saw
Criticisms for these saws are:
The Milwaukee saw 6370-21 lacks bevel adjustment with the blade not being in right angle with the saw. The 6370-20 would be more helpful if came with a finer tooth blade than the one it comes with. Also, the blade in this saw is hidden from the view; hence one has to rely on the index marks while cutting metal.
The Milwaukee 6470-21 circular saw comes with a 10-1/4 inch blade
size and delivers 15 Amps of power. This one is particularly made for most extreme cutting applications and is not supposed to bog down under load. With electric brake, bevel capacity at 60 degree and cutting depth at 90 degree, this saw makes one mean machine.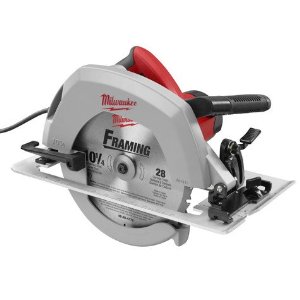 - Milwaukee Circular Saw - 10 1/7in., Model# 6470-21
Milwaukee circular saws have been rated as one of the best in the market being durable and packed with ample power. In my opinion, their precision with safety features is what makes milwaukee saws a great piece of equipment. Be sure to check out other tools also by the Milwaukee Tool Corporation.
Return To Main Tool Reviews Page
Return From Milwaukee Circular Saws Page to Home - Finishcarpentryhelp.com
.
---