Skil Cordless Screw Guns
Skil Cordless Drills - A Good Choice for All Your Household Tasks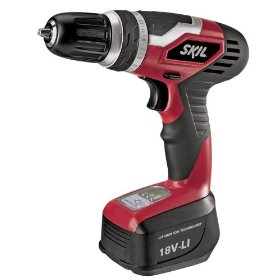 Small, handy, and surprisingly powerful,
Skil
cordless screw guns
are a good choice for your drilling and driving jobs. Skil offers a number of models with different sets of features. Let us take a look at some of the important features in these models.
. Two speed gear box.
. Soft grip design for superior comfort and control.
. Built in work light.
. Powerful motor.
. Forward/reverse LED indicator.
. 2-finger trigger for better control and comfort.
. Rechargeable batteries with charger.
. On-tool LED fuel gauge.
. Quick change hex chuck.
The most important feature which makes
Skil
cordless screw guns
a good choice for most household tasks is the two speed gear box. It allows you to shift easily from high power drilling mode to high torque mode. The forward/reverse switch is located very conveniently and can be accessed easily without changing your grip. Some of the skil models come with a built in bit index which according to most reviewers is very helpful. All you need to do is place a screw in the index to find the bit size you need. Some models come with a removable side handle for added leverage.
Like most other lightweight power tools, Skil cordless screw guns are very easy to hold and carry. Most of the skil models weigh just about 10 ounces. So, there are no risks of user fatigue at all. Despite their appearance, these skil tools pack quite a punch. The motor is good enough for almost all your household tasks.
A lot of reviews talk about the 'Twist' series from
Skil
screw guns
. These screw guns are well known for their pivot setting which helps you twist the tool into a horizontal position when you are working in confined places like cupboards and shelves.
Some models come with lithium ion batteries which are of a very high quality. They can hold charge up to 18 months. They also accept full charge without any memory effects whatsoever.
The major disadvantage with the Skil cordless drill is that some of the models do not have torque setting or a slipping clutch setting. It is not so much a problem if you are professional who knows exactly when to switch off the tool, but it can be a big problem for Do-It-Yourselfers who are not used to working with these types of tools.
Another thing that a lot of reviewers have mentioned is that Skil cordless drills that come with Ni-Cad batteries are not up to the mark as Ni-Cad batteries are not as good as Ni-MH or Li-Ion batteries. Some people are also of the opinion that the case that comes with some models is not sturdy enough.
A lot of reviewers are of the opinion that
Skil
cordless screw guns
are only good for household tasks and not for major structural or outdoor work. So, if you are looking for a compact, lightweight tool for drilling and driving jobs in and around your house, these skil tools could be a good choice for you.
Return To Main Tool Reviews Page
Return From Skil Cordless Screw Guns Page to Home - Finishcarpentryhelp.com
.
---