DeWalt Table Saws
Looking to Buy DeWalt Table Saws? Here's What You Need to Know
DeWalt is known for its wide range of high quality products including
DeWalt
Table Saws, miter saws, scroll saws, and planers. Let us take a look at the pros and cons of their table saws.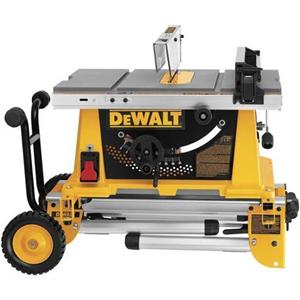 DeWalt offers two types of table saws - portable table saws and woodworker's table saws. Portable saws, as the name suggests, are lightweight and easily portable. Woodworker's table saws, on the other hand, are quite heavy and come with a wide range of features. Let us take a look.
Portable DeWalt table saws
Features
. 15 AMP motor which is powerful enough to effortlessly rip through hardwoods.
. Carbide blade.
. Dust port.
. Rack and pinion fence rails for accurate fence adjustments.
. Retractable telescopic rails.
. The start is really soft and smooth so that the blade comes up to speed gradually without jumping.
. Electronic feedback to maintain consistent blade speed even during difficult applications.
One of the important things that most reviewers mention about these portable DeWalt saws is that they weigh only about 45 lbs and are very easy to carry. Other notable features include standard size miter slots, a large power switch which can be reached comfortably, and easy depth and bevel adjustments.
The only weak point of portable table saws, according to a number of reviewers, is the blade quality. The performance of the blade is not as good as expected and it reduces the cut quality as a result.
Woodworker's DeWalt
Table Saws
Features
. High quality rip fence for making precise adjustments.
. Solid cast iron trunnion for improved cutting performance.
. Large, easily accessible on/off switch.
. Powerful 1¾ HP TEFC motor for ripping through even the toughest of hardwoods.
. Dust collection port.
. Easily adjustable bevel scale.
Almost everyone who has reviewed these table saws agree on one thing - the motor is very powerful. Also, it is located in board and it is out of your way. So, it is easy to store these saws against the wall when you are not using them. The on/off switch is very cleverly positioned and is easy to reach in case of an emergency. The bevel scale and the graduated bevel crank help you make very accurate blade angle adjustments.
As far as the weak points go, a number of reviews seem to mention three things - dust collection, fence quality, and the quality of extension wings.
Dust port - Table saws by DeWalt come with a 2½" pipe which leaves a lot to be desired as there is significant leakage which makes the workspace quite messy.
Fence - The rip fence is made of aluminum and it tends to warp a little when you tighten the I-bolts.
Extension wings - The extension wings are not as strong as the center, cast iron section of the tabletop. As a result, they tend to warp a little when bolted to the center table.
Both portable table saws and woodworker's table saws from DeWalt have their own share of advantages and disadvantages. A lot of reviews have done a good job of highlighting the positives and the negatives of
DeWalt
Table Saws. So, you can consider the upsides and the downsides and make a decision based on your needs, budget, and experience.
Return To Main Tool Reviews Page
Return From DeWalt Table Saws Page to Home - Finishcarpentryhelp.com.
---