Ridgid Table Saws
Ridgid Table Saws - A Detailed Look at the Features, Advantages, and Disadvantages
Ridgid Table Saws
are considered some of the best table saws on the market today. They are known for their power, precision, and versatility. Ridgid offers a number of table saws with a wide range of features. Let us take a detailed look.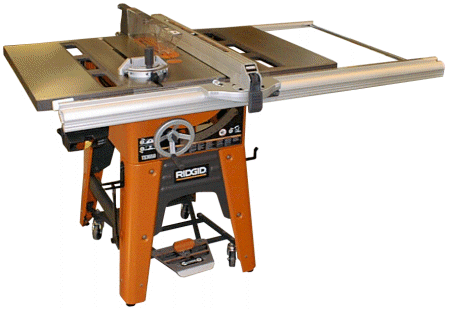 10" granite top table saws
They are very popular with carpenters for two reasons - cost and features. They are priced very competitively - in fact, they are the cheapest in their class. They come with a built-in mobile base, solid granite top, 40-tooth carbide tipped blade, dust control feature, T slot miter gauge, an integrated spreader and blade guard assembly, and a cabinet mounted trunnion.
These saws, pretty much like most other Ridgid table saws, are easy to assemble and even easier to operate. One feature which almost every other reviewer has mentioned is the on-off switch. It can be found on the left side of the fence and it is very convenient to use. A lot of reviews also seem to mention that the heavy granite surface reduces vibrations considerably. The dust port is positioned well and very little dust escapes it.
10" compact ridgid portable table saw
A ridgid portable table saw is portable in every sense of the word. They only weigh 55 lbs and come with an easy retractable handle and wheels which make jobsite transport very easy. They are known for their safety features. They come with a split blade guard and anti-kickback pawls which offer maximum protection.
The only problem with this type of Ridgid table saws, according to a number of reviewers, is that the fence does not sit parallel to the blade sometimes. A lot of reviewers find it quite surprising given the fact that these saws come with front and back clamps.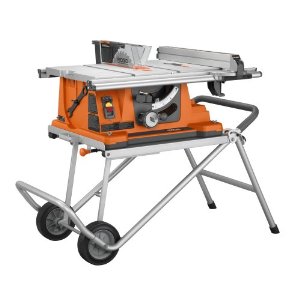 TS2410LS 14648 10-Inch Ridgid Portable Table Saw with Stand
Heavy duty ridgid portable table saw
The 15 AMP motor justifies the 'heavy duty' tag given to these saws. These saws come with a T slot miter gauge for additional cross cutting capacity - a feature which can be found in all of these table saws. Other notable features include a blade guard assembly and a micro adjust fence. A lot of reviews mention that the motor has a soft, smooth start and lasts a lot longer than the motors found in other table saws from the same class.
One of the problems that a lot of reviewers seem to mention is that it can be hard to reach the on-off switch during an emergency because of the way it is placed on the saw. Moreover, kickback is a problem with these saws as they do not have a riving knife.
Cast iron table saws by Ridgid
The 10" cast iron saws from Ridgid are considered one of the best contractor saws available on the market today. They come with a number of features including carbide blade, sturdy cast iron wings, T slot miter gauge, oversized on-off switch assembly, 1 1/2 HP TEFC induction motor, rip fence, and a poly V belt.
According to a lot of reviewers, operating these saws is fairly simple. The TEFC (totally enclosed fan closed) motor is quite powerful and it also keeps dust and debris out of its way. The poly V belt is designed creatively to avoid belt slippage and to reduce vibration.
As pointed out in a number of reviews, there seems to be two problems with this type of
Rigid
table saws - improper blade alignment and a small dust port. However, thanks to their competitive price, they remain one of the most sought after saws on the market today.
Since the features change from one model to another, you can visit their website to get a good idea of the price, features, and other related information on their products. All table saws by Ridgid come with a 90-day satisfaction guarantee policy and a limited three year warranty.
Return To Main Tool Reviews Page
Return From Ridgid Table Saws Page to Home - Finishcarpentryhelp.com
.
---