Delta Table Saws
Are Delta Table Saws a Good Choice for Woodworkers? Find Out Now
Delta table saws are one of the most sought after table saws on the market today. They are the first choice for a lot of people - including professional woodworkers and amateur do-it-yourselfers.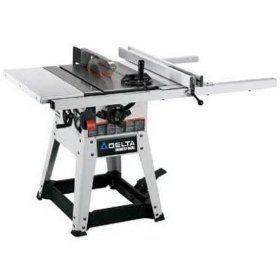 Delta offers a wide range of table saws with a variety of features. You can go for unisaws, hybrid saws, or contractor's saws depending on your needs and budget. Let me tell you about the important features of Delta table saws and highlight their plus points and minus points.
Unisaws
Unisaws from Delta are well known for their high quality design and useful features. They come with a single cast trunnion system which reduces vibration considerably and ensures smooth operation. The dual front cranks help you adjust the blade height and blade bevel easily. The cast iron base gives these saws a lot of stability. They are available with 3 HP and 5 HP motors.
The table surface is quite large which makes it easier for you to work. The blade opening in this type of Delta saw is quite large and it helps you change the blade and fine tune the riving knife without any trouble. The on/off switch is large, multi directional, and can be activated from any angle easily. The bi-level dust extraction port which contains a collector hose and a sloping bottom cabinet is quite efficient.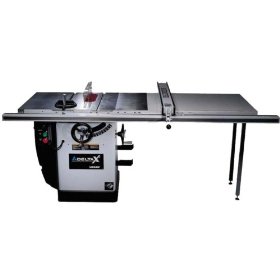 Hybrid saws
These saws from Delta come with a 1¾ HP motor which is quite powerful. They come with a rip fence, T slot miter gauge, 10" saw blade, poly v belt, a one-of-its-kind Unifence for superior accuracy, and a large, easily accessible on/off switch. The safety features of Delta saws are quite good thanks to the combination of high quality see through blade guard with splitter and anti kickback pawls. The saw, once assembled completely, can be quite heavy as it weighs nearly 350 pounds.
Some reviewers say that adjusting the blade in these saws can be quite difficult at times. To avoid this problem, you might have to use a dial caliper and loosen the trunnion a little. Some reviewers also suggest replacing the regular blade with a Freud 50 tooth blade to improve the performance of
Delta
Table Saws. Also, the table extensions can be hard to fit since the instructions are a bit vague.
Contractor saws
Contractor saws from Delta consist of a large, sturdy cast iron table with metal extension wings which offer great support. Some of the regular features in this type of table saw include a powerful 1½ HP induction motor, T slot miter gauge, blade guard with splitter, dust collection port, T2 fence, an easy to access on/off paddle switch, an inbuilt mobile base which helps you move the saw around in your workspace, and a 10 inch woodworking blade.
A suggestion that most reviewers seem to make is that you should read the instructions pretty carefully or else you might find it hard to assemble the saw. The dust collection port is quite good, but still some dust escapes through the open back of these saws.
Overall, the reviews for
Delta
Table Saws have been positive. If you are looking for a powerful, reliable saw, Delta might be a good choice for you.
Return To Main Tool Reviews Page
Return From Delta Table Saws Page to Home - Finishcarpentryhelp.com.
---