DeWalt Cordless Combo Kits
Information and Reviews for DeWalt Cordless Combo Kits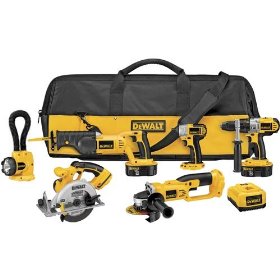 DeWalt manufacture and market tools for a range of users and purposes. Be it construction workers or first-timers DeWalt works to deliver the best. From this deluge range of products come
DeWalt Combo Kits
for trouble free work.
Finding the right tool is not easy, but DeWalt cordless combo kits make it simpler to choose with their large list of combo kits ready to be tried and tested for different purposes. Here are some of the most common products in this range.
The DeWalt
DCK series:
This range of 18 V DeWalt kits come with cordless hammer drill, 18V circular saw, reciprocating saw with keyless blade clamp, floodlight. Some models also include an impact driver. Some of these kits also comprise of Nano-phosphate Lithium-Ion batteries.
The merits for this range of DeWalt combo kits are:
The drill delivers an enormous amount of power and can drill through just about anything. The Recip saw with quick release is fabulous, which allows you to position the blade at both directions so as to get the blade at the right spot. The Nano technology in some of these kits has floored users away and has an impressive fan following.
That said some demerits of this series are:
They are expensive as compared to some of their competitors in the market. Some users prefer the lithium-Ion batteries over the ones that these kits come with.
The DeWalt DCX series:
This range of
DeWalt
Cordless Combo Kits includes powerful tools such as hammer drill with a ratcheting chuck, Nano-phosphate lithium-ion batteries, charger etc. Some of these drills are powered by 18 Volt some by 28 Volt and some by 36 Volt. They also include side handle and a blade.
Merits for this series of cordless combo kits are:
These saws render great power and the Nano batteries are light and last long. This line of combo kits has some great upgrades to the tools. The drill has a separate collar for driving/drilling/hammer-mode, which makes it easier to set the torque setting.
Some demerits for this series are:
They are bulky and heavy, which is expected since they are heavy-duty tool kits. Also it is hard to see if the battery is charging through the charger meter. The flood light is too powerful as per some users.
DeWalt
Cordless Combo Kits, the DC series:
This series include XRP batteries and are packed with other great features such as cordless hammer drill, a circular saw with a carbide blade, flexible floodlight for hands and hassle free use.
The merits to this range of are:
The heavy-duty drill delivers bountiful amount of torque and speed. The XRP batteries last long and the blade mount is sideways rather than the up-down feature, which makes this set very user friendly.
Drawbacks are as follows:
The huge plastic container is a bit bulky and users prefer the bag over the container.
DeWalt do deliver what they say, and what they give is pretty good as far as power-packed tools go. Powerful for heavy-duty industrial jobsite uses, the DeWalt combo kits tools are user friendly and accurate and a box of magic, in my opinion!
Return To Main Tool Reviews Page
Return From DeWalt Cordless Combo Kits Page to Home - Finishcarpentryhelp.com.
---