Panasonic Cordless Combo Kits
Panasonic - Tools with a difference!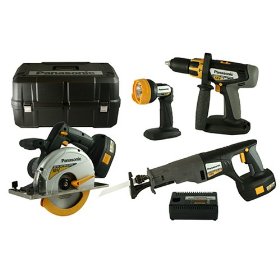 Panasonic
cordless combo kits
can be proudly owned for their sheer quality and their diligence. The tools are designed based keeping in mind the requirements of power, lesser weight handling and correct ergonomic design making it compatible for both right -handed and left- handed people. The only area where they are found wanting is the lesser marketing that has been done for these good value products.
Panasonic
power tools are the ideal companions for people in the construction industry, plumbing, carpentry and the electric installation work. Technically, the inverter charger uses Ni-MH batteries (Nickel Manganese Hydride) instead of the regular Nickel Cadmium battery giving stable power, longer life and faster recharging time. The presence of magnets, heat resistant brushes and built-in cooling fans spews enough power. Take the drill driver for an example, it has an 18 stage clutch and drill position, heavy duty keyless chuck, and hence able to deliver full torque at all speed.
The EYC series
Let us now review the different cordless panasonic power tools kits -18V NiMH cordless 4-tool combo kit which has a metal saw combo kit. It has a Hammer drill / driver capable of producing 425 lbs in torque helping with big holes, ideally suitable for masonry jobs. The metal cutting circular saw has carbide tipped blade that seems to be the safe bet to be used for cutting metal on conduit and metal siding. Electric brake and spindle lock are its safety features. Thinking of power cutting? The reciprocating saw could help! The reversible blade works upside down when there is a shortage of space. The flashlight is designed in a very unique way with an adjustable head, has an indicator of low battery and a convenient shoulder strap. There are 2 Ni-MH batteries provided and molded case.
Panasonic
has other 18 Volt NiMH combination with 2 tools. The set has a Reciprocating Saw and Drill Combination. The gear technology and the motors of this tool are a hit due to their tendency of long life. The highlight is the charger.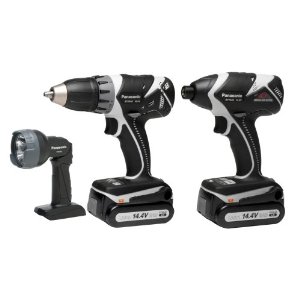 Panasonic EYC142B 14.4-Volt Li-ion Impact Driver/Drill & Driver Combo Kit with Light
Cordless Panasonic power tools also have its Lithium-Ion combo kit -Lithium ion drill driver and Impact driver. The model has only 2 tools only. The Lithium ion drill driver is featherweight, with strong power and is a good buy. The batteries use cobalt lithium-ion rather than manganese lithium. The presence of overcharge prevention sensor prevents over discharging. It effectively snaps power to the motor and also snaps a warning lamp while on a minimum threshold. There is also a overheat protection sensor, which works to notify the user through the control panel when the lithium-ion battery becomes hot.
Another useful product from Panasonic is the 14.4V Li-ion Combo Kit with Drill & Driver, Impact Wrench and Flashlight. An Impact wrench works with the impact created when we pull the trigger causing tiny hammers inside the wrench to be transformed into a rotary motion. Its beauty is its design.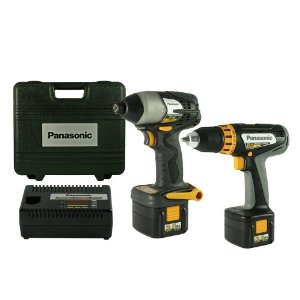 Panasonic EYC102B 12-Volt NiMH 2-Tool Cordless Combo Kit
Panasonic
cordless combo kits
elegantly combine durability, design and dynamics. Indeed they don't fail to pack a punch!!
Return To Main Tool Reviews Page
Return From Panasonic Cordless Combo Kits Page to Home - Finishcarpentryhelp.com
.
---