Milwaukee Cordless Combo Kits
Learn the Advantages and Disadvantages of Some Cordless Milwaukee Tools
Milwaukee Tools Corporation, one of the industry leaders in making innovative tools and equipment present, Milwaukee cordless combo kits. Fit for projects that require job solutions for all cutting, drilling and driving needs, these kits provide resourcefulness and flexibility to access the right tools and accessories for the job.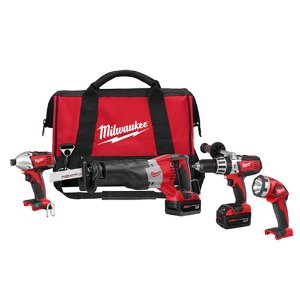 Milwaukee 2692-24 18-Volt Hammer-Drill Impact Wrench Sawzall Reciprocating Saw and Worklight Combo Kit
Renowned for their accuracy, power and great performance delivering tools, These cordless combo kits also make a mark in the market for the same features. They include Lithium -Ion batteries known for their spectacular battery life.
Common
Milwaukee
cordless combo kits
models that you would come across are:
Milwaukee Tool combo kit 0928-29 28-Volt.: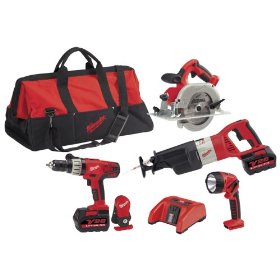 Milwaukee 0928-29 28-Volt Lithium-Ion Cordless 4-Tool Combo Kit
This kit is available in 3-pack and 4-pack options. This kit includes
No. 2 Phillips Batteries, Two Sawzall Blades, Circular Saw Blade, Rip Fence, Clip-Lok System, and Contractor Bag.
Advantages are:
-Batteries in this Cordless combo kit are light in weight life and are great. Also the meter is useful for contractors and professional users.
-Power packed to do almost all kind of rugged cuts and rip.
-The contractor Bag is more convenient than the cases.
-The V28 Lithium Ion battery technology is exceptional and the tools are perfectly balanced, powerful, resourceful and rugged.
Disadvantages are:
-Batteries are expensive as compared to 18-volt batteries. Some reviews also say that the batteries break after a bit of rugged usage.
-Cold performance is poor, especially disappointing as claimed by the manufacturer.
-Drill is good, but heavy. -The flashlight is not all that bright as compared to the LED lights on other products.
Milwaukee
combo kit 2691-24M 18-Volt:
This Milwaukee Tool kit includes:
Compact Driver, Sawzall Recip Saw, Circular Saw, Work Light, Two 18V LITHIUM-ION XC Battery Pack, 18V Charger, Side Handle, One General Purpose Sawzall Blade, One Circular Saw Blade, Contractor Bag.
Advantages are:
-great power and delivers good torque.
-this Milwaukee Cordless combo kit is well designed, and is relatively light in weight.
- A great product for home repairs and commercial work.
-the batteries have power meter directly on them for user convenience.
Disadvantages are:
-the batteries are not the same like the performance given by the 18v NiCads.
-the different slide mount does not fit all the other existing tools.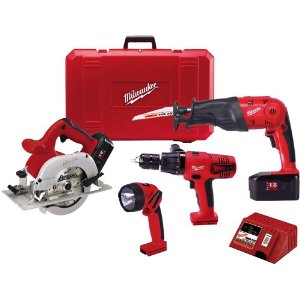 Milwaukee 0926-24 18-Volt Ni-Cad Cordless 4-Tool Combo Kit
Milwaukee Tool combo kit 2290-23 with sub scanner and drill driver:
This Milwaukee Tools kit includes:
SUB-SCANNER Detection Tool, Screwdriver, Two LITHIUM-ION Battery Packs, 30-Minute Charger, Contractor Bag.
Advantages are:
-Measures location and depth of rebar through concrete up to 6 inches which is a great merit for professional and industrial applications.
-Discriminates in between ferrous and copper or aluminum (non-ferrous) metals, thus making the makers work easier
-Quick bit-loading 1/4-inch hex chuck for bit insertion and release with one hand
-Battery fuel meter that display the battery life, a touch of thoughtfulness.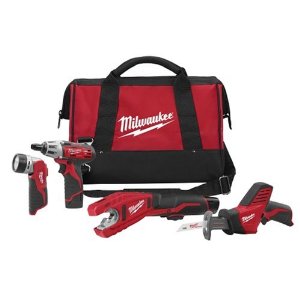 Milwaukee 2490-24 12-Volt Compact Drill, Hackzall Saw, Pipe Cutter, and Worklight Combo Kit
Milwaukee
combo kits
deliver splendid performance with user-friendly features. The tools included in the kits are ideal for professionals and industrial users. With superior and longest running cordless tools, Milwaukee tools kits make a great investment for those home improvement plans as well as rugged use. An ultimate combo kit for those who demand extreme power in their hands, Milwaukee makes sure to abide to your needs. Although with a few demerits to its name, users have found the Milwaukee Cordless combo kits better than their competitors.
Return To Main Tool Reviews Page
Return From Milwaukee cordless combo kits Page to Home - Finishcarpentryhelp.com.
---