Ridgid Cordless Combo kits
Are the Ridgid Power Tools Line for You? lets take a look
The
Ridgid
Cordless Combo kits
have the completeness of design and versatility for all your contracting jobs. They come coupled with several options - 24V Lithium ion kit, 18V lithium ion. Interestingly they do arrive in a 3 piece and 6 piece set. It's important to gauge the situation and select appropriately since it will not result in wasting money.
Let us analyze a five piece 18V Ridgid
Cordless Combo kits.
The set is a good collection of the popular sought after Ridgid power tools. There is a hammer drill, a circular saw, a reciprocating saw, a charger and an impact drill. The bag is really colorful and has pouches. One is definitely happy receiving the kind of batteries and their performances. The charger is unique and since it has 3 power packs with dual ports, our work goes on without disturbance. The charger works with 2 status lights for each dock and has ways to determine the optimum performance. Recharging is a breeze as it just takes half an hour to do so and it is possible to recharge from 9V to 18V. This aspect is definitely a big plus for the system.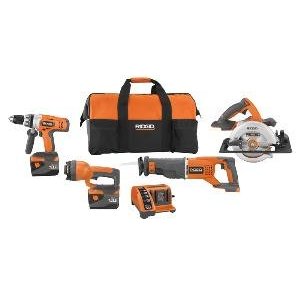 RIDGID XLi 24 Volt Lithium Ion Combo Kit
The Hammer drill
is a specialist in the design. Though a bit heavy, it has good control. With a good capacity to produce high torque and 2 speed gearboxes, clutch and keyless chuck it's capable to do fast drill work with its 580in/lb of torque.
The next combo kit item is the
cordless circular saw.
Here the power is somewhat compromised with the convenience. It works with a base plate with an indicator, has a lower rpm, a smaller blade and a battery. The reciprocating saw is the one which facilitates blade change quickly. There are 3 such blades for use with an adjustable foot.
A
reciprocating saw
can be useful for cutting both metal and cutting wood. There is an additional interlock switch present. It works wonderfully well and aids in all remodeling work.
The Impact Drill
is one workhorse that has very high power - equivalent to a torque of 1450 in/lb.The impact action works with very little pressure from the operator and is useful for removing fasteners. It is more useful for driving bigger holes and shouldn't be applied for smaller ones. Its high power can overwhelm lighter jobs.
The flash light
is not just powerful and uses a Xenon bulb with a switch. May be it has the room to improve!! It has a non-slip base with a rotating head (180 degrees) and can be used for 3 hours continually.
The saws are less impressive in their power. For a long term heavy duty use, they are good allies.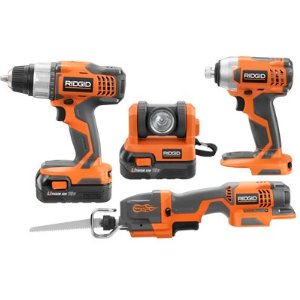 Factory Reconditioned RIDGID 18V 4PC COMBO KIT Drill, Driver, Light, Saw
With ridgid power tools the pricing is an unbeatable aspect and needs mention. With an impeccable service warranty for lifetime it is indeed an inviting aspect to invest. These combo kits do come with the Lithium-ion powered batteries, which stand out in performance. Indeed, there is better value for money and choice couple with great service with the
Ridgid
Cordless Combo kits
.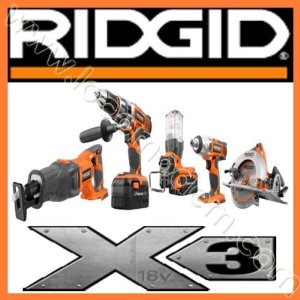 Ridgid R963 X3 5 Piece 18-Volt Lithium-Ion Combo Kit
Return To Main Tool Reviews Page
Return From Ridgid Cordless Combo kits Page to Home - Finishcarpentryhelp.com
.
---