6 Panel Interior Doors: Colonial Doors, STILL THE MOST POPULAR
6-panel solid core Double Doors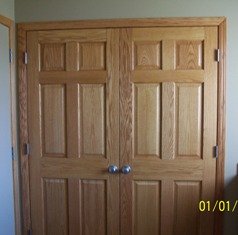 Colonial 6 panel interior doors are still the most sought after doors. Colonial doors not only come in 6 panel nor are they limited to interior but also come in exterior and a wide variety of styles and sizes. There are First Period English, French Colonial, Spanish Colonial, Dutch Colonial, German Colonial, and Georgian Colonial doors, all with their unique characteristics. Early Colonial doors were generally simple and their character came from the home owner's country and what nationality he or she was.
English Colonial Style Door
The English Colonial door was developed in 1607 in Jamestown, Virginia and in Plymouth, Massachusetts in 1620. This door continued to be defined in colonies across the Eastern shore later and drew its source from rural English life. It had a medieval appearance to it.
French Colonial Style Door
The French colonial door got its origins in Ste. Genevieve, Missouri and was constructed in 1778. Originally, the idea for this type of door came from Quebec, Canada. However, French settlements in New Orleans, Louisiana, the Mississippi River, all the way to Missouri further developed this door. Some French Colonial homes and doors still exist in southern Louisiana. These doors are tall and narrow.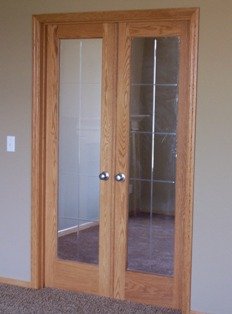 Spanish Colonial Style Door
The Spanish Colonial style door originated at St. Augustine, Florida in 1723. Further definition of this model developed in the Southwest and California. In Spanish Colonial homes there were a number of external doors, but few windows. The Dutch Colonial door was originated in 1663 at Coxsackie, NY with the arrival of Dutch colonists. NY is what they called "New Amsterdam".
German Colonial Style Door
Next German Colonial doors and homes were invented in 1675 near the Delaware River Valley which is now Pennsylvania, New Jersey, and Delaware. Georgian Colonial doors and homes were developed between the dates of 1720-1780. These buildings were square, with straight lines of windows on each floor and the door was in the middle. The popularity of Colonial 6 panel interior doors today is a testament to the enduring quality of this door and its many ethnic influences.
American Colonial Style Door
This American Colonial door has origins in Europe, Holland, England, Spain, and Mexico. When you speak of a Colonial door remember that it has many different styles includingthe popular 6 panel interior door.
If you have a Colonial home and you wish to preserve its historical integrity there are many companies on the Internet who sell replacement doors. However, if you are building a new home there are lots of companies selling very beautiful colonial 6 panel interior doors or carpenters who will make one for you that specialize in these doors. It is important to get the measurement of the new or replacement door and choose which style you desire whether it be English, French, Spanish, Dutch, German, or Georgian. Although having a carpenter make these doors is very unique it is also very expensive. Buying the manufacture built doors in these styles is an alternative and may save money while keeping the appearance of the colonial period.
Return From 6 Panel Interior Doors page back to prehung interior doors page
.
Return From 6 panel interior doors to Home - Finishcarpentryhelp.com
---