Prehung Interior Door
Knowing the Differences of Interior Prehung Doors will help before the installation process
The prehung door should not be opened or unsecured from it's bindings until it is ready to be installed. Moving or opening these prehung doors with the bindings unsecured can easily cause damage to the frame and or hinges.
A prehung interior door is the easiest and quickest way to go for installation versus purchasing a slab door and mounting it into a door frame. There are many factors to consider for mounting a slab door into a frame.
Some special tools (jigs) are available to purchase to keep everything lined up and straight so the slab door closes and works properly. However this still takes some skill and knowledge and is very time consuming.
This is not to say it can't be done because it can, however going with a factory prehung interior door is a much better option for the average diy'er who wants to install their own interior doors.
More About Slab Doors
Let's say you decide to go with slab doors. There are some things to keep in mind.
first make sure these slab doors are blanks. Blanks are doors that have no holes cut into them. They do not have the hinge placements routered out and are true new blanks.
Be exactly sure of the correct sizes of these blanks.
If you are taking out hollow core doors and installing solid core blanks, be sure the frames(jambs) are screwed in. A lot of times hollow core doors are not screwed and just nailed. The weight different of hollow core and solid core are quite extreme.
Becareful adding screws to existing jambs as the torque of screwing can easily tweek the jamb and your troubles will be just beginning.
Do not buy used slab doors. The holes will most likely not line up and the hinge placements will be off. Unless you are buying new jambs or jamb material.
Installing Prehung Door Tips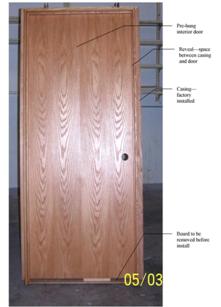 Installing these interior doors can be tricky if you don't know the process. Knowing the process, a few tools and some shims and the average person can accomplish this with good results.
When I install prehung doors I like to have one side cased prior to installation. A lot of times you can buy these doors pretrimmed on one side which makes the installation process easier. If they don't come pretrimmed then I would trim one side myself before hanging these doors.
Lay the door down on the floor with the door opening upwards(so the door opens up towards you). The inside will always be the side that gets pretrimmed. In other words the side that goes into a room is the side to be pretrimmed.
Go to this page
hanging doors
for some key points for measuring and general carpentry information for a do-it-yourselfer to understand proir to the installation.
After you have the door pretrimmed and understand some of the key points you are ready for installing this prehung interior door. Here are the instructions for the
installation process
.
Interior French Door Information
Interior French Door Information and Help.
Colonial 6 panel interior doors
Colonial 6 panel interior doors styles and origins
Varieties Of Interior Door Casing
Descriptions Of The Varieties Of Interior Door Casing
Trimming out or casing interior doors
For the installing instructions page.
Interior Door Hardware
Information for choosing your interior door hardware.
Interior Door Hinges
Information about door hinges and how to adjust a door with the hinges.
Return From Prehung Interior Door page to Home - Finishcarpentryhelp.com
.
Prehung interior door DIY help
---