Wainscoting Ideas
Some Wainscoting Ideas to Decorate Your Home Innovatively
Given here are some of the best wainscoting ideas to dress up your home. Wainscoting is a great way to decorate your home without spending a lot of money. With the right kind of wainscoting, you can give your home a brand new look. Depending on your taste and budget, you can choose different types to decorate your home.
First of all, you need to decide what your home should look like.
Do you want a classy look?
Do you want an ultramodern, uber cool look?
Do you want a rustic look?
Do you prefer cottage style décor?
Depending on your preference, you can choose the right type of wainscoting design for your home.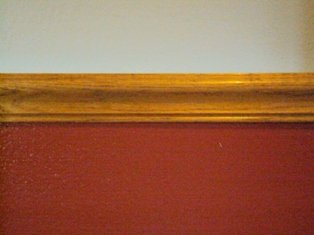 Wainscoting can be as simple as paint. Putting up some chair rail and painting the wall a different color below or above has almost the same affect as wainscoting. Also with textured paint you can mock wood, rock, tile or even marble, there is so many choices with just paint.
Bead Board Wallpaper
Another low cost way is Wall Paper
pictured above. Here again you have many choices and it doesn't necessarily have to have a wood look.
Once you have decided what your home should look like, you can get started with the decoration process. You can use different types of wainscoting to decorate different parts of your home. If you do not mind spending some money, you can go for natural oak wainscoting which gives your home a rich look.
If you are on a modest budget
, you can go for bead board, MDF, or faux wainscoting. You can even go for plywood sheeting and prefabricated kits which you can get for very little money. Depending on the amount of money you are willing to spend, you can pick any one of these wainscoting options.
Elite Bayside Beadboard 8ft Kit in Paint Grade
Some people prefer using the same wainscoting design for all the rooms in their home. Most people, however, prefer using different types of wainscoting for different rooms. For example, for your living room, you might want a formal look. So, you can use raised panel wainscoting which gives a formal look to the room. If you want a country look, you can go for white wainscoting with cottage style décor.
For bathroom
, most people prefer white bead board as it gives a clean, relaxing feel to the room. Similarly, you can choose different types of wainscoting ideas for your bedroom, dining room, and kitchen.
Plastics PolyMax Wainscot Planks
For
installing wainscoting
, you can get a good carpenter. However, if you want to keep the cost down, you can do it yourself too. The installation process is not as hard as most people think. It can be done with simple tools like stud finder, compressor nail gun, miter saw, measuring tape, and chalk line. By doing it yourself, you can not only cut costs, but can also get the satisfaction of decorating your home all by yourself.
The important thing you need to keep in mind is that there are no hard and fast rules when it comes to wainscoting. It is your home and you can decorate it whichever way you want. So, come up with different types of wainscoting ideas and give your home a new look and feel.
Raised Panel Features
Check out this link for more features that raised panel wainscoting can provide.
Also ideas for other areas it could possible go in your home.

Bathroom Styles
Want to revitalize a dull bathroom?
Check out this link for ideas to really make a stylish bathroom with bathroom wainscoating.

Installing Wainscoting
Here are some step by step instructions for installing Wainscoting.

Return back to Wainscoting page.

Return From Wainscoting Ideas page to Home - Finishcarpentryhelp.com.




---