Wood handrails stair parts can vary depending on the style of hand railing you want.

One particular style which I like and have built hundreds of consists of all wood and has the fillet material which fits between the stair balusters or spindles in the bottom and top rail of a wood handrail.



The stair balusters (spindles) are square at the tops and bottoms and fit perfectly into the plowed out areas of the top rail and bottom rail.

The fillet is then cut to fit in the space between the spindles to fill this plowed area for a finished look.

One advantaged of the fillet style is you don't have to drill holes for the spindles.

They are made to fit snugly and neatly into the top and bottom rail.

The Styles For You To Consider

Wood handrails stair parts come in a few different styles and sizes for you to consider. The actual wood handrail itself has some different profiles for you to choose from.



The handrails with the different profiles I have built come in 2 sizes; the small handrail which has 1 & 1/4 inch size balusters and the large has 1 & 3/4 inch size balusters to match the plowed out portion of the handrail.

Both are nice and its just a matter of choice and budget.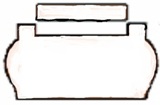 Shoe (bottom) Rail
Don't to forget to pick out the bottom rail or shoe rail which goes with your top rail.
The bottom rail is the part that the balusters sit in at the lower part of the railing.

Balusters

The stair balusters also come in some varieties. Of course the 2 sizes which I explained but also all square or turned ones.
By turned I mean that they have been spun on a lathe making them round with different designs and profiles in the middle of the balusters keeping the very bottoms and tops square for fitting into the rails.
Again both are very nice looking when installed and completed. When you order your wood handrails stair parts keep in mind the size you have chosen and order all parts to that size.

Newel Posts

Wood handrails stair parts would definitely include the newel post.
This will be another decision you will have to make. Again like the balusters they can come square or turned or square with different varieties of tops.
An example may be all square with an acorn style top. You can also get really fancy newel posts in different sizes and fashions with a pretty large variety of price ranges.
The length of the newel post is important to consider also.
Depending on the situation and place of where the newel posts will be mounted.
There are OSHA height requirements to meet with hand railings and it is important to stay within these requirements for safety.
This is all explained in my E-book.

For more detailed information about newel posts, check out my Newel Post Page..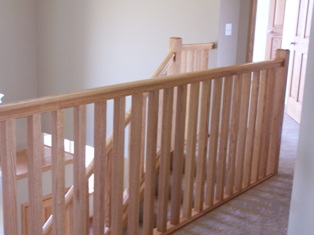 Rosettes

A rosette is a decorative piece of wood that goes against the wall where a wood handrail meets the wall.

This decorative piece of wood again comes in many shapes and sizes.

The rosette however is an option and is not necessary.

The rail can be run straight into the wall which in my opinion is simple and cleaner looking.

Other Parts

Other wood handrails stair parts include the fillet which I have explained earlier but what I didn't explain is that this fillet material sometimes come in some different profiles also.

Some other parts depending the situation may include a cap board or boards that cover the knee wall that the railing may be built on.

Maybe you want some nice bull nose trim for the railings to be built on.

Bull nose usually goes on a floor edge where the railing is built over looking a stair landing or maybe a step edge where a railing is built across a room over looking into a sunk in living room.

Bull nose is however an option and not necessary.

You also might need some mounting parts for your newel posts again depending on the situation.

There are a few different types of mounting plates for newel posts and I do prefer one certain kind which I have used over and over again with good luck.

All the wood handrails stair parts and other parts of the handrail will be covered thoroughly in the e-book.

If you are just in the mood to build something try my free e-Book.

Its totally free and is a guide to building a corner shelf.

I originally built one for a T.V. and people liked it so much I ended up building a quite of few of them for friends and family.

I just put it into a quick little free e-book to share because of its popularity.

The unit can easily be changed to a different size and be modified in numerous ways for different purposes.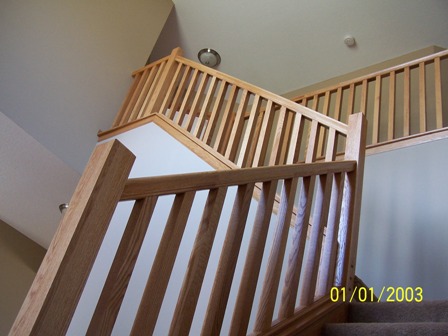 You Can Build Your Own Handrailing!

The e-book for building hand railings is finally finished and available to purchase.

Inside are details of all the parts of a handrail and an extensive step by step process of building a hand railing with pictures and diagrams.

This eBook is a fraction of the cost compared to hiring a contractor to build it.

This book gives even the most inexperienced person the ability to understand and build their own handrail.

I wrote it in the simplest form possible so anyone can understand the terms and explain the terms so it will not leave you hanging without understanding something.

Also in this eBook I explain all the tools necessary to build a wood handrail and give you the tool brands I use.

Having built so many of these I am not going to say its easy but I have ran into almost every potential problem imaginable and do provide a contact button on my website at finishcarpentryhelp.com for questions and comments.

Understanding all the wood handrails stair parts that make up a railing is explained and essencial.

After you purchase this e-book you will also receive my personal e-mail address for quicker responses to questions you may have.

This process of building a handrail will require some time and patience but I will be there just an e-mail away.



Building Stair Hand Railings
Ebook Preview of Building Stair Hand Railings


Installing A Wood Handrail
How to install a wood handrail.


Handrailing Codes

Return From Wood handrails stair parts to Home - Finishcarpentryhelp.com.








---