Baseboard Molding
Finish off your Flooring with a Great Baseboard Molding Design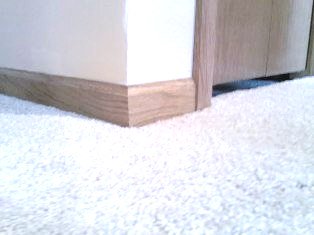 A baseboard molding is a piece of decorative architectural material that is used to cover the joint area where the floor meets the wall. As well as being decorative, baseboard trim (or skirting board as it is sometimes called), also serves a practical function in as much as it protects the bottom of the wall from kick and scuff marks, and scratches from moving heavy furniture around.
Baseboards have an interesting history, having first been created in Great Britain in the early Victorian era. They are thought to have been created to mimic the decorative features at the top and bottom of ancient Greek architectural columns.
In the early Victorian days skirting was made from timber, and any artistic profiling had to be done by hand, making it quite an expensive commodity. However the early Victorians were always eager to display their wealth, therefore skirtings or baseboard trim were displayed mostly in the rooms where they entertain guests.
They later migrated to the US, where the fashion was imported by immigrants entering the country, when, in the early days, (as in Victorian Great Britain,) they were also symbolic of wealth in the houses of the rich.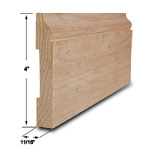 Today, baseboards are molded from plastic, plaster or wooden composites such as medium density fiberboard (MDF) in various profiles and sizes.
They are also available in natural woods such as Oak, Maple, and Mahogany to mention but a few. Heights vary anything from one inch to 6 inches or more, and are usually chosen to reflect the size of the room.
Baseboard moulding is now easily affordable
due to the fact that is molded in bulk, and whereas they were once used to display the owner's wealth, they are now more used for decorative as well as protective purposes.
Of course, in this day and age money still plays an important role in the lives of many, and for those who are not financially challenged, and who have plenty of disposable income to spend, for the right price, a designer baseboard molding can be commissioned.
But the great range of designs that you will find in most DIY stores and builders' merchants are easily sufficient for most people's tastes and needs.
Whereas once upon a time a baseboard molding would have only been made out of wood, which would then require sanding down and painting, today's plastic moldings are prefinished. This simplifies the installation process as the moldings are supplied in long lengths, (typically 8, 12, or 16 foot lengths) which then only have to be cut to length and glued into position.
BY TRIMSTER
Composite wood baseboards are great to work with if you want to get the best looking finish. Wood is such a forgiving material, and with the right tools, (a miter saw is a must-have), a little patience, and a modicum of skill, you can achieve a really professional looking finish.
One handy tip:
if your miter joints are not absolutely perfect, (and they do have something of a reputation for opening out), you can always infill them with a little paintable silicone caulk, which can then be painted to match the rest of the baseboard.
BY TRIMSTER
You'll find plenty of information on how to install a baseboard molding online; or if you have a good DIY store or builders' merchants near you, they can usually offer plenty of good, useful advice, and a few helpful tips too.
Return From Baseboard Molding page to Home - Finishcarpentryhelp.com
---