Baseboard Trim Styles
Selecting from among the many available baseboard trim styles is not a difficult task unless you take your wife with you! Baseboard styles range from the most basic straight cut materials to elaborate and decorative styles as well. Art deco, colonial, baroque or even gothic styles are all available for purchase. Each lends a different finished look to the job when finished.
The basic baseboard trim style is a straight cut plank of wood. These can be procured in lengths of sixteen to twenty feet and in varying widths. If you prefer a natural wood with no embellishment, natural pine, oak or other woods are there. These can be either stained or painted to the job specs or customer preferences. Any staining should be done and left to dry completely before installation is attempted.
For those occasions when the baseboard trim needs paint, the material has to be primed first. Wood is very absorbent and the pores in the wood will just suck up the paint otherwise. Again, priming and/or painting needs to be done prior to installation. Allow ample time for the paint to dry, too. It is no fun working with tacky baseboard material.
There are a lot of baseboard trim styles to select from. As we said, material that is already formed and shaped in decorative styles is common. These as well are purchased in lengths from sixteen to twenty feet and widths from about 3/8" to as much as 1 1 /2". Natural wood or MDF is the common choice of finishing carpentry professionals everywhere. The size you use depends on the profile you want at the end and the look desired overall.
In older homes, it is common to use colonial baseboard trim styles. These add a nice rustic look to the wall and augments the room motif in the process. It is installed the same way as any baseboard trim. Many times, these are best purchased in pre-finished pieces. They usually have a decorative design to them, so coping the inside corners is best here. Trying to do mitered joints can be a challenge; not impossible, just a challenge.
Some rooms demand a more ornate feel and finished look. For this situation, art deco baseboard trim is suggested. Art deco trim styles add flare and attitude to the wall. This type of baseboard trim tends to call attention to itself and can become a conversation piece of sorts. With the decorative design of the trim, coped inside joints and mitered outside joints are the order of the day.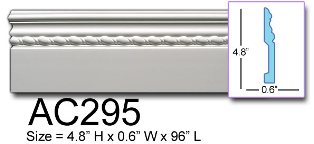 If more ornate, intricate baseboard trim styles are required, you can find specialty styles in most lumberyards or home improvement centers. Delicate gothic, baroque or other influences from the world of architecture can be purchased. These baseboard trim styles are generally more expensive, so great care must be taken during installation.

On the other hand, it is possible to get some straight baseboard material and design your own custom baseboard trim , but this takes time and that is a commodity when on the job. Baseboard trim will accent your work accordingly. It is just a matter of customer preference and room/wall requirement.
Return From Baseboard Trim Styles page to Home - Finishcarpentryhelp.com
---