Black and Decker Jigsaws
Black & Decker Jigsaws - Master of the Trade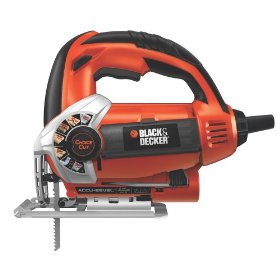 Black and Decker Jigsaws at Amazon
Established in the early 19th century, Black and Decker made its humble beginning as a machine shop in Baltimore & is now one of the leading producers of tools & related applications.
Black & Decker Jigsaws
have been a tough competition for its rivals in the market based on competitive factors. Black & Decker manufacture corded & cordless jigsaws. They are also potential manufacturers of handsaws & cut saws.
Black and Decker
Jigsaws JS series seem to be the most commonly purchased jigsaws. Black & Decker JS series jigsaws offer the basic functions at the most reasonable prices. All the models of Black & Decker JS series are evidently compact & chic making it easy for storing & carrying. Every successive model of Black & Decker JS series jigsaws are revised keeping in mind the drawbacks of the previous model.
The FINISH CONTROL SYSTEM is an exclusive feature of Black & Decker JS series where every kind of cut is moderated by the machine itself. The electronic speed control option of the JS series helps us choose the material depending on which the speed can be adjusted. The efficiency of the blades of the Black & Decker JS series is the toughest part of the tool as it remains sharp for a very long duration. Few models in the JS series have option to store 3 blades in an attachment present on the body of the machine. The blade changing process is also short & simple as it doesn't involve any secondary tools.
Models other than the JS series are also tough enough to cut materials other than wood like iron, other metals & plastic. They have a lock-on button facility which allows the user to relax during strenuous tasks.
Though there is no doubt that Black & Decker is one of the best they somehow don't seem to satisfy the customers' quality demands as the body of the tool either cracks or breaks when put to excessive use. Certain models in the JS series have a lot of vibration which results in the machine getting detached when it is in the "lock-on" mode. There are a lot of technical problems related to the adjustment & retaining of the angle in which the cut is supposed to be made. Once an angle has been adjusted, reverting it back to the original position seems to be a herculean task.
The motor of
Black & Decker Jigsaws
are not powerful enough. The speed wavers depending on the density of the material & intensity of cutting. In some models, the blades are too thin, making it tough to cut along one straight line. An assortment of blades to serve different purposes would be appreciated. The guide lines in the manual are very vague & do not help the fixing or the handling processes in any way.
Apart from the JS series, the other Black and Decker Jigsaws have a dust blower which cleans the working area from the collecting of debris.
Return To Main Tool Reviews Page
Return From Black and Decker Jigsaws Page to Home - Finishcarpentryhelp.com.
---