Black and Decker Reciprocating Saw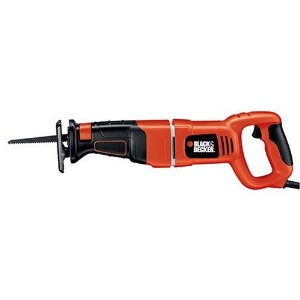 Black and Decker Reciprocating Saws
The Black and Decker reciprocating saw is a power tool for the average home user and fans of the Do it yourself kits. It packs a lot of different features within one package, giving the right bang for the bucks you spend on this powerful reciprocating saw. The power usage of 8.5 amps give it enough fuel for all the tasks you can throw at the machine- even if it is making simple cutouts in a drywall or cutting a pipe through and through. This reciprocating saw comes with variable speed selection, which you can choose depending on the job at hand that you need it for.
You can choose six speeds between 0 to 2,400 strokes per minute. Another advantage of this power tool is its weight; at 7 pounds, it is lightweight and consequently easy to use even in awkward positions such as when you are cutting something over your head.
The stroke length of the Black and Decker reciprocating saw is also very generous. This means that you can do a lot more aggressive cutting and the blade can last longer as a result of the consequent even blade wear. In addition, there is a tool-free Quick-clamp system that is present for changing blades. This system is unique to Black and Decker and allows you to change blades quickly, safely and easily.
The ergonomic rubber grips on the handle reduce the vibrations while you use the reciprocating saw, which allows you to do tough jobs easily. The same goes for the cushioning on the front end of the power tool, effectively giving you better control over the machine, and making your job much safer. The three-position shoes for your arms allow you to easily use the Black and Decker reciprocating saw even in the most awkward positions.
A reciprocating saw is a very important power tool in any house, and this saw from Black and Decker can do jobs such as drywall cutouts, cutting PVC, framing a new door, renovations, subfloors, joists and all other sorts of jobs around the house.
Specifications:
Technical Details / Product Features:
• 7.5 Amp motor
• 1-1/8" Stroke Length
• Variable speed (0-2,400 stokes per minute)
• "Quick Clamp" tool free blade change
• Soft grips
Item Dimensions:
• Weight: 5.3 Pounds
• Length: 23 inches
• Width: 4.50 inches
• Height: 9.88 inches
Pros:
The versatility of the Black and Decker reciprocating saw is its biggest advantage. A variable speed system with six speeds allows it to be used on almost any job. It is also very comfortable, with soft grips, light weight and three-position shoes. All this allows you to do more work quickly, safely and comfortably.
Cons:
It is not a professional tool, and cannot do high-end jobs. For this reason, it is suitable only for homeowners and amateurs for small-time jobs and Do it yourself kits.
Bottom Line:
The Black and Decker reciprocating saw is a perfect, low-cost tool for all the odd jobs around the house. It is versatile and safe and easy to use. However, if you are looking for a professional power tool, or a saw for commercial purposes, you can look elsewhere. For the average user though, it is perfect.
Return To Main Tool Reviews Page
Return From Black and Decker Reciprocating Saw Page to Home - Finishcarpentryhelp.com.
---