Bostitch Air Compressors
Bostitch Air Compressors - Light weight champions!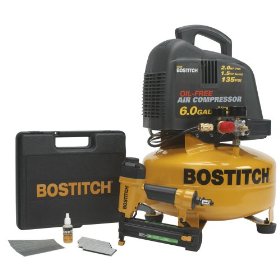 Bostitch Air Compressors at Amazon
Bostich has been part of the tool industry for more than a century creating quality products which has enhanced lives of construction professional and the common man at home(for Do-It-Yourselfers). They have supplied good fastening products which are durable and reliable. The
Bostitch
Air Compressors deliver unsurpassed performance, convenience and durability.
Air compressors are known by the way they package air in a particular area. The forceful pressured air that is created find its usage in industrial plants, manufacturing processes and home needs. They are good aid for operating the pneumatic tools. It is important to assess where the compressed air would be utilized. To gauge the power requirements we follow pressure rating (given as PSI) and airflow rating, which is measured as CFM (cubic feet per minute).
These Air compressors are available as light weight models and are oil-free compressors. Air compressors need oil to lubricate the parts in action. While compression of air takes place, it comes into contact with the moving parts which cause the air to have oil traces. To avoid these, there is a filter that is provided which removes oil traces completely. Though expensive, all of Bostitch Air compressors are oil free models. The other advantage of being oil-free is that they require less maintenance.
Let us consider few models:
The highly efficient1.5 HP model which produces 2.7 CFM at 40PSI and 1.8 CFM at 90 PSI and just draws only 8 amps. Their specialty is their portability - one could carry it easily from place to place and it weighs only 19.5lbs. The other highlight is the quiet operation and hence they are best to work with at enclosed spaces. They support small pneumatic staplers and nailers in high speed applications or power a large construction nailer which is used for framing applications.
The second model of These air compressors is the 6 Gallon 2.0 Peak HP motor oil free compressor producing a airflow rating of 2.8 CFM @90 PSI. The presence of 6 gallon reserve tank is helpful. To protect it from sudden impacts at job site, gauges are protected with composite shrouds. This model weighs just 38 lbs and hence is easily portable. The application that could be used is for Finish Nailers, Roofing and framing nailers.
The third model of
Bostitch
Air Compressor is the powerful oil free compressor with 2 Peak HP motor which draws just 10.5 amps and weighs 51 pounds. The specialty of the motor is the manual reset overload protection. This model has a high flow regulator for multi-tool use.
Bostitch also has specialized models to be used in winter months which has a start assist system for easy startup which improves pump life. The pancake model has this startup feature. There are wheelbarrow models with powerful engines is available too. These models arrive in combination kits too along with brad nailers and Finish and Trim tools.
Bostitch has criticism on the fragile physical appearance on lower end models, which could be improved. Invest in these Light weight champions!
Return To Main Tool Reviews Page
Return From Bostitch Air Compressors Page to Home - Finishcarpentryhelp.com.
---