Chair Rail Ideas
Some Interesting Chair Rail Ideas
Chair rail ideas can cover a wide array of decorating goals. Whether looking for classic or kitsch chair rails provide a strong horizontal element to room designs, as well as providing a simple tool to help maintain the condition of the wall a chair rail molding is mounted on.
The first and simplest consideration is the width of a chair rail. Remember that if the rail is to serve a practical, protective function it should not be so narrow that it fails to shield the wall from chair backs. Beyond that, however, chair rail ideas can incorporate many widths of molding.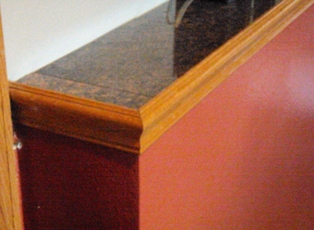 Be sure to keep the width in proportion to the room and the other decorative motifs, though: a wide molding in a small room filled with fine, delicate furnishings will look gawky and awkward. Too slender a rail in a large room decorated with grand set pieces of furniture can appear too trivial and frail for the setting it is placed in. Any chair rail ideas you consider must take into account the character of the room in which they will appear.
Most chair rails are plain molding with simple rounded edges, but more elaborately routed moldings can work very well. Just as the complex curves and cast shadows of fancy routed molding can enhance your chair rail, so can embossed or pressed wood or resin moldings. Each of these shifts in molding provides an element of texture to what is otherwise a fairly plain horizontal line around the waist of a room.
Color and pattern can add yet another dimension to your chair rail. Chair rails are most often painted white against a contrasting background, or are painted a pale shade against a white or ecru background. In some instances, though, a strong, bold color can spark up the character of a room.
Likewise the choice of a soft, pale tint, tone or shade of the primary color of the wall can create a lovely effect when the same color is picked up by accessories in the room. Thus a medium blue wall might have a soft, pale gray-blue chair rail, with matching gray-blue cushions on the sofa and runners on the incidental table.
When looking for chair rail ideas you can also turn to other modes of decorating. A flat, simple chair rail can be enhanced by the addition of a decorative band of wall paper. These border strips are commonly placed at the top of a wall, but if chosen carefully can be used on a wide chair rail also. Be careful: in most instances you will want to use either a ceiling high border or a band on the chair rail, but not both. Too much decoration is no longer a beautiful thing, but mere clutter.
If you are preparing a nursery or play room, consider devoting one wall or portion of a wall's chair rail to pegged molding. In a child's room such pegs can replace closets, or allow a wide array of packs, bags, and looped toys to be hung up out of the way. Remember that chair rail can incorporate practical features.
For simple modification consider edging a narrow chair rail with two interesting moldings, one top and one at the bottom. By using three pieces of pre-shaped wood you can come up with complex chair rails without having to do your own routing.a job that takes too much space and equipment for many to consider in a small home or apartment.
Return From Chair Rail Ideas Page to Chair Rail Page
Return From Chair Rail Ideas Page to Home - Finishcarpentryhelp.com
---