DeWALT Air Compressor
DeWalt Air Compressor - Light weight power packed performers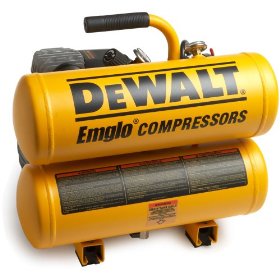 DeWALT Air Compressors
DeWALT with its portfolio of 300 power tools and 800 power tool accessories is a name to reckon with when it comes to manufacturing of products in power tools and accessories. The Air Compressor by DeWalt is defined by its versatility in design coupled with high performance. It is compact and lightweight and hence finds better acceptance amongst users.
The
DeWALT
Air Compressor has an extensive range of portable air compressors which features both electric and gasoline-powered Honda OHV GX engines.
Appearing in its characteristic yellow and black colour ensembles, these devices have a range of air tank sizes and air performance levels. There are two types of portable design available for both electric and gas air compressors - one is hand carry and the other is wheelbarrow style to facilitate easy portability to different places in the worksite.
The latest models have dual voltage capacity, enabling it to work with a power of 120-volts or 240-volts. It's amazing to note that they have dual-control facility too which allows it to operate on different modes - start/stop or constant run.
DeWALT ensures greater durability by using oil-lubricated cast iron pumps. The air compressors are manufactured with quick-drain ball valves on its air tanks. This enables maximum draining. They have to defend against all elements in the work site and hence have protected gauges and long-lasting components.
These Air compressors are user centric products and are the most durable ones in their category. It is useful for pressure testing newly laid pipes. These air compressors are manufactured with technology that is proven and best. The Company boasts of 1000 authorized centres and hence has extensive service and repair network.
One of the popular
DeWALT
Air Compressor which you can consider buying is the electric DeWALT D55140 compressor.
The Air Compressor D55140 has a one gallon tank and a 2.6amp motor that provides 0.75SCFM at 90PSI to a max ranging to 135PSI. It has a durable oil free pump which requires least maintenance. It has a protective roll cage and control panel to safeguard the unit of usual wear and tear of key components.
This model weighs around 24 pounds, making it easy to carry around on a work site and is 9.0 inches wide and hence is compact for storage. It has a high surge functioning and a fast revival time as well. Its strong power output is combined with a low noise level of around 71db, making it a very handy tool you can find in the market. A wrap around control safeguards the frame and provide more safety to major compressor components. It has a year of free service and warranty.
Your work site stays clean by using this compressor as it avoids oil spills or contact with surface around. It has a universal quick connection for use of operation with any of your pneumatic tools making it a more convenient for use. So, if it's handy and powerful air compressor you are looking, then DeWALT Air Compressor is the one for you.
Return To Main Tool Reviews Page
Return From the DeWALT Air Compressor Page to Home - Finishcarpentryhelp.com.
---