DeWalt Wet-Dry Vacuum Cleaner
The DeWalt Wet-Dry Vacuum can most likely handle any work area that is bound to get messy with sawdust, paint chips, wood chips, spilled water, and a number of other things. It is important for any handyman to keep his work area clean, and having a Shop Vac on hand is a great way to keep things clean. When it comes to a vacuum cleaner, a wet-dry cleaner is the best kind to have for a tool shed or work area, as it can handle any kind of mess easily.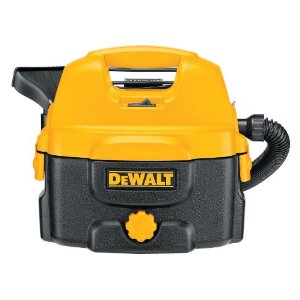 DeWalt Vac
DeWalt is one of the world leaders in manufacturing power tools, and they have took it upon themselves to provide the average handyman with an excellent Shop Vac to help them clean up any mess in the workplace: the DeWalt DC515K Cordless Wet/Dry Vac. This cordless device makes it easy to clean up any mess as quickly and effortlessly as possible, enabling handymen to keep their work areas neat and tidy.
The DeWalt cordless shop vac comes with a tank that is able to hold up to half a gallon of wet and dry debris. The tank is firmly latched to the device, but is easy to remove and clean. Nearly 100% of the dust that passes through the wet/dry filter created by HEPA is filtered at .3 microns, ensuring that the vacuum cleaner functions properly. The filter can actually be easily removed and washed by hand using common tap water.
The DeWalt Wet-Dry Vacuum comes with two choices of nozzle to clean any mess: the extendable hose or the utility nozzle installed at the front of the vacuum cleaner. The cordless battery holds power for 40% longer than the batteries of its competitor shop vacs, and the shop vac actually comes with the ability to be used with any 18 volt DeWalt tool battery. Many reviewers have stated that the battery on the shop vac has lasted them far longer than they had expected it to, and the DeWalt battery is well worth its cost.
The device has a switch that is large and easy to access with a single hand, ensuring that anyone using the device can easily switch it off or on with just one hand. The hose of the shop vac is very heavy duty, meaning that it will resist the beating of the debris that runs through it. It will also not be ruined if it is stepped on or something is placed atop it, and it will last you as long as the shop vac itself will.
The DeWalt DC515K Cordless Wet/Dry Vac comes with a warranty that last for three years, and the money back guarantee is good for 90 days. It is heavier than many of its counterparts, but the weight is well-balanced and even, making it a perfect tool to use around the workplace.
Many people have reviewed the DeWalt Wet-Dry Vacuum, and have proclaimed it one of the best devices. A couple of downsides mentioned were:
• It is difficult to know when the tank is full, as it is not transparent.
• It is far louder than many of its counterparts
• Lacking in peripherals and accessories, such as a shoulder strap, and perhaps some brushes and hose attachments.
Return To Main Tool Reviews Page
Return From the DeWalt Wet-Dry Vacuum Page to Home - Finishcarpentryhelp.com.
---