Forstner Bits
Forstner Bits – What Are They and How Are They Used?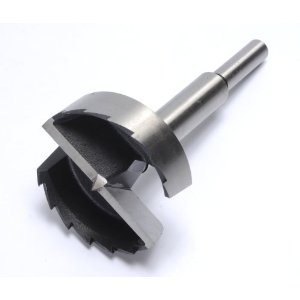 Forstner bits are a type of drill bits used extensively in woodworking projects. They were invented by Benjamin Forstner, a Pennsylvania based gunsmith. They are used to make precise flat bottom holes or through holes in end grain, veneers, thin stock, and regular stock.
One of the biggest advantages of using these bits is that you will be able to drill exceptionally smooth, clean large-diameter holes. This is the reason why these bits were used primarily by gunsmiths in the past. Unlike most other types of drill bits, they are not guided by the central point, but by the outside rim. What this means to you is that you will be able to drill pocket holes from any particular angle you want. You can also use these bits to drill holes on the edge of the material, partially overlapping holes, or square bottomed holes.
An important thing you need to remember while using these bits is that it takes considerable amount of force to push them through the material. This is the main reason why these bits, unlike most other types of drill bits, are not used as hand tools. They are used only in drill presses or lathes.
A typical Forstner flange bit contains a cutter around the perimeter, which shears off wood at the edge of the bore. It also contains radial cutting edges that plane off wood from the bottom of the hole. Saw tooth type bits usually contain a lot of cutting edges and they cut really fast, but the holes they drill are a little ragged.
The only noticeable disadvantage with these bits is that they do not have any sort of mechanism to clear chips from the hole. You have to pull out the bit often to do it yourself. Most woodworkers, however, do not see this as much of a problem. This is why these bits are very popular, despite being more expensive than standard twist bits.
Forstner bits are available in a wide range of diameters – right from ¼ inch to 3 inches. They can be sharpened on an oilstone or by using a fine file. They are usually sold in sets. Certain types of these bits are coated with TIN (Titanium Nitride) to increase their durability. It is a common industrial process employed to improve the quality of cutting tools. Carbide tipped bits, which are very popular with professional woodworkers, are also available on the market today.
Return From the Forstner Bits Page to Home - Finishcarpentryhelp.com.
---