Grizzly Nail Guns
Grizzly Nail Guns - Riddles Unanswered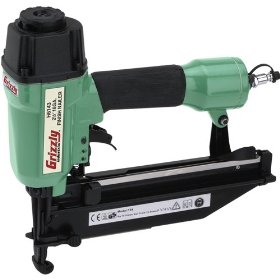 Grizzly Nail Guns at Amazon
First thought that zaps through your mind when you look at Grizzly nail guns is what made these people price them so low? They do not exactly seem like crowd attractors. This company is pretty young when compared to power tool giants like Bostitch or DeWalt. They are not much in the limelight & are on the way in carving a niche for themselves.
Grizzly has launched only a single nail gun which is a gauge brad category that comes along with a kit. The first glance at These nail guns would not suggest to you anything about the performance, durability or reliability i.e. just because its priced downright cheap, if you are going to assume it is going to be cheap looking or something then you would be totally fooled.
These nail guns cannot be used in hard core construction projects, instead are more reliable while making furniture & for small household projects. If you think this nail gun is just an eye washer (going by the price) be prepared to prove yourself pretty wrong.
This nail gun from Grizzly is moderately powerful, not very light, makes nominal noise & is quite durable. It's handy & sturdy. The case that comes along with the Grizzly gun is a beauty. Large enough to actually accommodate a Bostitch, it is armed with separate compartments to carry nails & Velcro hand carry straps.
Grizzly nailers are yet to be popularized in the market. One thing I just can't figure out is how these guys work out their profit margin while competing with Milwaukee & DeWalt whose nail guns can burn a hole in your pocket. The nails guns from Grizzly are quite prone to misfiring & double firing. Not to mention frequent jamming. In this case, 'frequent' means once in every 2 shots! The piston keeps jamming every time it senses treacherous work ahead. It is not the kind of tool that behaves like a 'macho man' instead it's something like a software professional- prefers to sit in a place & use its brains but not its strength. This nail gun does not seem to come with any special features. It's just the 'very basic'. In short it is fit to show a kid what a nail gun looks & works like.
Beyond all these imperfections, nail gun manuals by Grizzly carry authentic information about their product. The features & the uses may be few but all the operating & handling procedures have been described in an understandable manner & can be comprehended without any ambiguity.
All in all nail guns from Grizzly are preferred by beginners who want to get a hang of what it would feel like to handle a nail gun. They can pick up more customers if they concentrate more on adding a few extra useful features like the any directional air exhaust or even the low nail count indicator. Grizzly nail guns are great for the beginners!!
Return To Main Tool Reviews Page
Return From Grizzly Nail Guns Page to Home - Finishcarpentryhelp.com.
---