Handles and Knobs from Door Chic
Adding Life to a Tired Room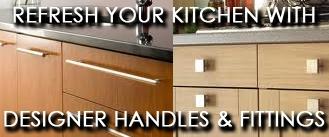 Everyone, at some point or another wants a new look in the kitchen. We may not truly need it, but we've become bored with the same old look. In some cases, the knobs and drawer pulls, the cabinetry itself were selected by the homes previous occupants and you just want to add a little of your own personality to the room.
Your kitchen cabinets may not need to be painted or resurfaced, but you've got it in mind that you'd like some kind of a change in your home. Even a slight change can often make a big difference. Getting the small change that you want may not require a lot of time or even a lot of money.
You can revamp your kitchen cabinets, antique furniture, or even just a set of dressers in a spare bedroom. Using new knobs you can give them an entirely new look and feel. Consider the old dresser with the ceramic knobs and what a unique change could be made to the look and feel of it just by changing the door knobs on it.
The door handles that you're using may be older. Some may be chipped, or even peeling. Changing them out for new handles and door knobs could take the unique antique piece that you have from shabby to chic.
Getting a whole new look in your kitchen isn't so hard after all. Think about warming up the room with just a few splashes of change. Incorporate brass faucets on your kitchen sink, rather than the older style stainless steel. Along the way, change out those cabinet handles and drawer pulls with some warm brushed or polished brass handles to bring out the color and improve the style of your entire room with just a few simple changes.
You can create a whole new look with just a few changes in knobs, handles, and door pulls in your kitchen or bathroom. Taking your room to a new level may not require a complete makeover. Maybe all it needs is just a little TLC and a set of new handles and knobs from Door Chic.
You can add a little of your own personality, your own style to any room in the house when you offer a little bit of change.
Handles and knobs from Door Chic
bring style to any room in the house.
Visit www.doorchic.co.uk to view all of the styles and colors available to you.
Return From Handles and Knobs from Door Chic Page to Home - Finishcarpentryhelp.com
.
---