Hitachi Air Compressors
Hitachi Air Compressors - Technological masters!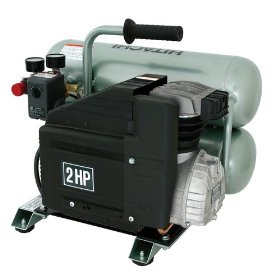 Hitachi Air Compressors at Amazon
Trust the Hitachi Air compressor for perfect design and unmatched performance enduring for long years. They have been crafted with finest materials. Hitachi is an organization that dedicates 8% of revenues to research and development. From their stable comes a powerful and durable Air compressor, which has been preferred by professionals and embraced by the novice too!
The Air compressor by Hitachi is very useful in producing moderate-pressure air and is available with a wide range of sizes, with different air delivery ratings and horsepower. Those with low horsepower, small portable model including the pancake style is used to run small tools in the house, and those that are above 5 horsepower can be used to heavy duty jobs. Air compressors run a good variety of power tools and aid in doing the repair chores quickly with least cost. The models are gifted with protective roll cage design which protects exposed gauges at work-site and a ball valve tank which drains for easy maintenance.
The following are some of the common Hitachi
models of air compressors. Let us analyze the important features now:
EC 12 model:
This is a portable 2 hp 4 gallon twin stack air compressor which effectively provides air pressure to facilitate any pneumatic air-nailer.
EC119SA:
This model has a portable 4 gallon twin stack compressor with 15 amp induction motor which is a very quiet in its operation and has an extended life. This is a hand carry air compressor and is impressive for the contractor who is on-the-go.
EC 189 model:
This is 8 gallon electric wheeled air compressor which could be used for multiple nail operation. The cast iron pump ensures a long life and a reliable air production. The highlights of this model is its low RPM, oil lubricated crank shaft ensuring an enduring performance at the worksite.
EC 2510E model:
This model is an 8 Gallon Honda GX powered wheeled Air compressor which combines ease of use with excellent quality. This has the capacity of working long hours continuously. The air pressure cycles range from116 PSI to a maximum of 145 PSI thus showing great capacity.
EC25E model:
This model has an 8 Gallon Honda GX gas powered wheeled air compressor which is capable of delivering 9 cubic feet per minute of air at 100 per square inch.
EC 79 model:
The EC79 model has a 6 gallon oil free portable pancake compressor which features an excellent induction motor for extended life. One aspect to cheer about is the least noise that it makes than others in its peer group. This is a wonderful air compressor is the Finish contractor's first choice due to its plug-and-play qualities and its performance.
EC 89 model:
The EC 89 4-Gallon portable electric twin stack air compressor has an oil-lubricated cast iron pump and 13 amp direct drive induction motor giving long life. The Ergonomic handle makes it convenient to be moved anywhere in the jobsite. Follow the leader! The
Hitachi
Air compressor will certainly deliver!
Return To Main Tool Reviews Page
Return From the Hitachi Air Compressors Page to Home - Finishcarpentryhelp.com.
---