Hitachi Reciprocating Saw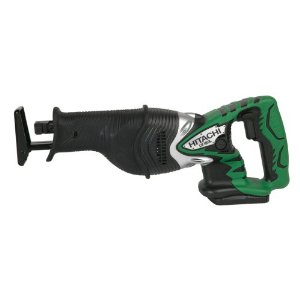 Hitachi Reciprocating Saws
The Hitachi Reciprocating Saw is a good power tool and affordable for the diy'er. Reciprocating saws, also called 'sawzalls', are great power tools to have when you need to get some demolition work done. Reciprocating saws are very similar to jigsaws, since it has a foot and oscillating blade similar to a jigsaw. However, it differs in the size of the blade; a reciprocating saw has a wider and longer blade and is more powerful when compared to a jigsaw.
The most important feature that needs to be seen when looking for a reciprocating saw is its ability to change blades quickly and safely without any extra tools. Another factor is its comfort of use and its grip, which is important for safely operating a power tool. Finally, it needs a good warranty period to go with it.
All these factors are met with accuracy in the
Hitachi
Reciprocating Saw. It provides all the features that are required from a normal sawzall. Hitachi uses an innovative system for changing blades in its reciprocating saw, which does not require any additional tools. This allows you to change blades quickly and safely, reducing the overall time of finishing your job. However, if the base holder that locks onto the blade is retracted into the saw, it can be cumbersome to reach the lever and push it down for releasing the blade lock.
In addition to the blade changing arrangement, you can also install your new saw blade in the reciprocating saw with the teeth on either sides of the saw. This arrangement is advantageous in itself, as it makes the power tool more flexible. As a result of this improved flexibility, you can reach into the hardest places and do your jobs in the most awkward positions. This includes working with the reciprocating saw over your head.
As far as comfort of use is concerned, the
Hitachi
Reciprocating Saw also excels in this field. Along with the flexibility in using this power tool, you also have a D-handle with a powerful grip, giving you more control over the sawzall. The weight is also comfortable with the reciprocating saw measuring at less than 8 lbs. in terms of power the Hitachi Reciprocating Saw is very impressive. It houses a motor that is fueled by 10 amps, and an electronic feedback control system integrated within it allows you to use just enough power for your "Do it yourself" demolition jobs at home. The final touch is the five year warranty offered with the Hitachi Reciprocating Saw.
Specifications:
• Motor: Single-Phase, Series Commutator Motor
• Power Source: Single Phase, 120 V AC 60 Hz
• Current: 10 Amp
• Mild Steel Pipe: O.D. 0.5" (130mm)
• Vinyl Chloride Pipe: O.D. 0.5" (130mm)
• Wood: Depth 5" (130mm)
• No-Load Speed - 0-2800/min.
• Stroke Length - 1-1/8" (29mm)
• Keyless Blade Clamp – Yes
• Tool Length - 17-1/8"
• Tool Weight - 7.3lbs (3.3Kg)
Packaging:
• All Purpose Blade
• Hex Bar Wrench
• Instruction Manual and Safety Instructions (English/French/Spanish)
• Heavy-Duty Carrying/Storage Case
Pros:
It is flexible, comfortable to use, and easy to handle, making it a very safe power tool for all the odd jobs at home.
Cons:
Although the blade change system is easy, it can be difficult at times to switch blades. In addition, the speed variation is not up to the mark with its other competitors in the market.
Conclusion:
The
Hitachi
Reciprocating Saw is a good power tool for its money, allowing you to do any DIY jobs at home comfortably and safely. However, it is not a professional tool, and looks to be good enough for amateurs.
Return To Main Tool Reviews Page
Return From Hitachi Reciprocating Saw Page to Home - Finishcarpentryhelp.com.
---