Ingersoll-Rand Air Compressors
Ingersoll-Rand Air Compressors -Comprehensively yours!!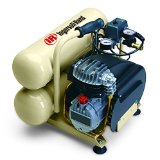 Ingersoll-Rand Air Compressors at Amazon
If it is one organization which bowls you over with a range of products that is committed to enhancing the customer's efficiency, productivity and operations, it is Ingersoll-Rand! It is a $13 billion company with a 135 year old tradition which promises depth of knowledge, expertise and experience. No doubt a global leader, this company re-invents compressed air technologies that suit the demands of current day.
These air compressors provide the much need forceful pressured air required by pneumatic tools. They are the best support machinery for contractors which help in doing many of the everyday requirements in Industrial, manufacturing and home needs. Ingersoll-Rand Air Compressors work on a very broad level and are marked for the versatility in the available models. Ingersoll-Rand Air compressors find their presence in various industries including automotives, chemical, electronic, iron and steel, Pharmaceutical and Textiles.
Air compressors produce pressured air in two different types: positive displacement and Dynamic. In positive displacement air compressor, air is filled first and then it is emptied out of the chamber. There are three different types of positive displacement which are
1. Reciprocating
2. Rotary screw and
3. Rotary sliding vane.
Ingersoll-Rand
offers Reciprocating air compressors in
1. Portable and
2. Stationary modes.
In Portable mode, there are a range of electric and gas driven single stage and two stage reciprocating compressors. Their application is to power pneumatic tools, emergency production line requirements when there is scarce power. We have the ergonomically designed Air sled models, the multipurpose heavy duty tough Garage mate models, twin stack reciprocating model which can be used from interior trim and finish to roofing and decking, two stage Gas powered which has over 15000 hours of life with good safety features and the Wheel barrow model which is designed for maximum maneuverability.
All the models are built with durable cast construction. The Stationary models with the range of single stage and two stage reciprocating compressors are the welcome gift for commercial and industrial customers. The Compressed natural gas, electric driven duplex, electric driven single stage, electric driven two-stage, electric driven high pressure, oilless, vacuum pump models operate with maximum operating pressure, long duty cycles and a greater forceful air flow. This technology is brought out effectively with the reliable precision engineered components.
The Rotary screw mode arrives in multiple levels of compression and the specialty is the Oilfree model which includes the innovative two-stage compression line with variable-speed drive (VSD) oil-free compressor.
A Dynamic air compressor increases and decreases air with the help of a rotating device. All centrifugal air compressors are dynamic air compressors.
Ingersoll-Rand
air compressors of centrifugal type are oil-free and the only ISO certified product which produce pressure in three different modes. Low Pressure models, High Pressure and Engineered models.
These air compressors have complaints mainly with regards to shipping and packaging which should be rectified. The startup kit in some cases that are sent has been found to be mismatched.
What more can you ask for these efficient and economical solutions? This brand is all about choice indeed! Salute the master!
Return To Main Tool Reviews Page
Return From Ingersoll-Rand Air Compressors Page to Home - Finishcarpentryhelp.com.
---