Interior Door Styles
The Many Diverse Interior Door Styles To Choose From
A variety of interior door styles are available for your project, whether personal renovation or contracted construction. The interior doors in your home will add beauty and interest as well as complete the look and/or feel you are seeking. The styles are all very diverse and have characteristics individual to each one. Use this short guide to help select the door you need.
Panel Doors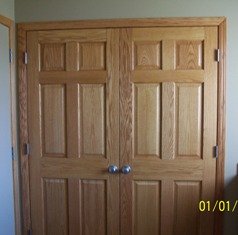 Panel doors are a common choice among interior doors. These are a basic door that has a pattern of blocks, or panels, added for decorative purposes. The panels can be arranged anywhere from two large, rectangular ones to six or eight smaller panels. Other arrangements are also available for a custom look. The door panels can even have straight or curved tops for added flavor.
Flush Doors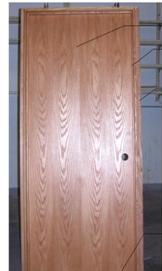 Another popular choice of interior door styles is the flush door. Flush doors have a flush, or smooth, finish on both sides for a more contemporary, modern look depending on your needs or desires. Flush doors can be purchased in a variety of woods and can be stained or painted to match the décor of the room. If you like, you may even get a plain wood door and color it to your needs or acquire one that is already to hang.
Bifold Doors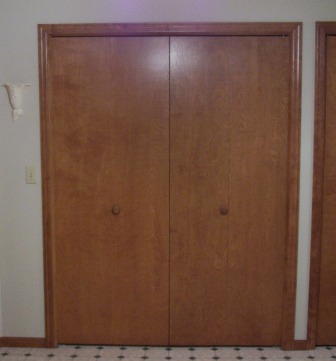 Bifold doors are an option for areas of the house that just need to be separated. Bifold doors are the best interior door styles for places like pantries, broom closets or bedrooms. Bifold doors simply fold in the middle and just "fold" back against the frame to provide room access. Available in many wood types or alternative materials, these doors are perfect for the division of private rooms from the more public areas of the home.
For children's rooms, there are decorative door styles that are decorated to fulfill a theme. Add a favorite animated character or sports hero and the room motif is complete. These doors can be of either panel or flush style doors. For adult rooms, other decorations like nature scenes or artwork can be purchased. With the decorative nature of these doors, there is no need for painting or staining.
French Doors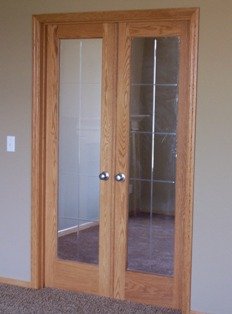 French doors are another popular, fancier option among interior door styles. With a combination of wood and glass panes, French doors will brighten up the entire space where they are installed. When you want a nicer look that adds real flavor, these doors are THE choice. Various types of wood and many configurations of glass panels make for a plethora of choices.
Sliding Doors and Double Swinging Doors
Finally, there are two other door styles from which you can select; sliding doors and double swinging doors. Sliding doors can be purchased in any type of wood imaginable or in a mirrored variety. These are designed to slide into the doorframe and actually reside inside the wall when opened. A handle is provided for easy closing purposes. On the other hand, swinging doors are a double door that swings open from the center outward to give access to adjoining rooms. Swinging doors are available in a variety of wood materials with glass panes reminiscent of French doors.
As you can see, choices for door styles are as varied as the stars in the sky. The proper choice can make your room "pop". Happy shopping!
Return From Interior Door Styles Page to Home - Finishcarpentryhelp.com
.
---