Kreg, Kreg Pocket Hole Jig
The Kreg Pocket Hole Jig Might Be Indispensable for Woodworking.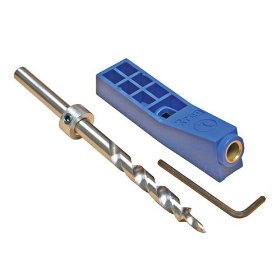 Kreg Pocket Hole Jigs
The
Kreg Pocket Hole Jig
was an invention made out of necessity. Craig Sommerfeld, a tool and die maker, as well as a woodworker, was in the process of building his own home when he came upon a problem with his kitchen cabinets.
He had dowel face frames that needed to be attached to the cabinet fronts. He could have nailed them on and then covered up the nail heads with putty. But, there are always telltale signs left with this method.
He was aware of the technology invented by the Egyptians, in which two work pieces were clamped together to allow holes to be bored at an angle. A dowel was then covered with glue and inserted into the hole. At the end of the process, the dowel heads were cut off flush with the surface, leaving hardly a visible mark.
Over the years, the ancient technique has involved into two main joinery methods; doweling and the pocket-hole method. The advent of the self-tapping screw made boring a hole into the second work piece unnecessary. That's a big advantage with small work pieces. The screw has advantages over the dowel in terms of stability and strength.
The Pocket Hole Jig makes the pocket-hole method of joinery even easier by providing a guide that allows for fixed spacing and consistent repetition of the spacing. It can be used with work pieces large and small.
The design is based on the jigs and drill presses used in industrial settings, but also with the individual woodworker in mind. Whether you are an amateur woodworker starting your first project or a professional, having the right tools makes all the difference. Most pros are aware of that.
The
Pocket Hole Jig
is now available in master, junior and mini systems. The unique, high quality drill guides are also available in "micro" versions for use on smaller pieces.
The company manufactures clamping tables which can go along with your workbench and bench clamps, or which can be attached to your existing table or bench. Clamps are available that attach at right angles or corners. Unique clamping sets are designed specifically for attaching faces to cabinets and other furnishings.
Some of the best precision measuring accessories are available from the company, including a miter gauge system and a band saw fence. Although they may not be able to service all of your woodworking needs, their Pocket Hole Jig and other products will make your jobs easier and more accurate.
Return To sitemap Page
Return From the Kreg Page to Home - Finishcarpentryhelp.com.
---