Makita Air Compressors
Makita Air Compressors – Home needs guaranteed!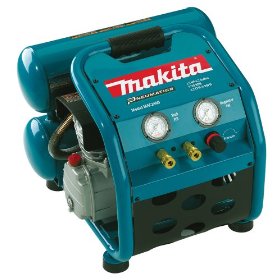 Makita Air Compressors at Amazon
Air compressors are the best tool to help build pressured forceful air in a particular space by packing it. The uses of it are plenty right from industrial purposes as in chemical plants, manufacturing processes and in daily household usage like inflating your tires, sporting goods like balls, swimming pool etc.
They are a boon for those in the construction and automobile industry. Makita's 90 year contribution with 350 tools to the industry has a reputation of producing quality tools like the one being discussed here- Makita Air Compressors. They are durable products made with the highest quality raw materials which undergo rigorous testing. They operate with leading edge technology that is compact and energy efficient.
These Air compressors work on important four different principles. Their performance is enhanced by Cast iron cylinders which work with great bore and stroke which creates increased compression, faster recovery and least noise. Makita's Big bore compressors are characterized by higher output and less noise for an excellent job site performance.
All
Makita
Air compressors with Big bore are oil lubrication and are engineered with automotive style filters for increased air intake thereby improving efficiency. They deliver industrial power admirably. They offer low noise coupled with high output. They are durable since they run at lower RPM and offers longer motor life. These products are quite reliable with drawing lesser AMP which reduces instances of tripped breakers and voltage drop that could cause motor failure.
Consider the Makita's 2.0 HP motor MAC700 model which has all the above properties and consists of a 2.6 gallon tank with an operating pressure of 130PSI and delivers 40 PSI(3.8 CFM) and 90 PSI(3.3 CFM). It is facilitated with a roll bar handle providing portability and protection against harsh weather. They are very soft in their sound but they are not large and cannot be used for heavy-duty applications. Hence these models are the apt tools for finish nailers and residential usage.
These Air Compressors also come with 3.0HP with a 5 gallon motor (MAC5200 model). Along with its roll cage, it has a Folding handle with easy storage, tool hangers which stores tools, rugged wheels which help to moved from place to place. It has a built-in storage compartment which ensures all air fittings and accessories are safely stored. The oil lubrication helps with least minimum wear. The in-built thermal overload gives the motor additional protection. The industrial air filter helps greater intake of air. This model is ideal for woodworking, painting, caulking or construction.
Makita
Air Compressors with 2.5 HP, 4.2 twin stack tank compressor (Model MAC2400) which a largely recommended product in its category. It produces high output (Big Bore cylinder) and piston. The twin stack produced enables it to be used for heavy duty use. This product is ideal with oil lubrication, reduced incidences of tripped breakers, roll cage construction and easy maintenance with oil sight glass.
These Air Compressors are part of the combination kits of Nailer, Stapler and compressor. With the least complaints of their performance, these units are the best in business undoubtedly!!
Return To Main Tool Reviews Page
Return From Makita Air Compressors Page to Home - Finishcarpentryhelp.com.
---