Oak Wainscoting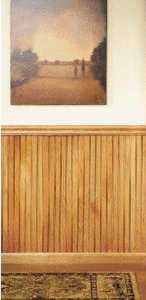 The rich tones of wood trim or wainscot adds character to any room. Oak wainscoting is an inexpensive way to achieve a look that was once only available to people with a great deal of money. Pre-fabricated wainscot kits can provide all the materials necessary to give any room a complete makeover in a weekend.
Types of Oak Wainscoting
There are many types of wainscoting. One affordable wainscoting kit has veneer-topped panels. These veneer panels have at least one-half of an inch of oak covering a fiberboard type backing. Some oak wainscot panel kits have thicker veneer. Simulated oak grain polyurethane panels are also available. This material is less expensive and can be stained using wood stain products to produce the same rich finish that oak veneer panels have. Solid oak panels are also available. These types of panels are heavy and require that the walls they are attached to are sturdy.
Trim for Oak Wainscoting
Oak
has a definitive grain that accepts stain well. The rich tones of the wainscot panels are highlighted by a wider bottom trim and top molding. Most baseboard trim for wainscot is at least four inches tall or taller. Top molding is also wider ranging in height from three to five inches.
Complete Panels
There are a number of
wainscoting
panels designed to eliminate the need to cut and install each piece of the wainscot. These complete panels come ready to install. Matching the edges of these larger panels is important. Baseboard trim is installed so that the panels rest on them. The top molding which is installed after the full wall panels are attached covers any irregularities that may occur between the top of the panel and the ceiling.
Tools
A level, carpenters pencil or chalk line, hammer, finishing nails, adhesive, wood saw and a miter box are all the tools that will be needed to install oak wainscoting panels. Having a four-foot level is important as this will keep the panels even and allow for proper installation. The settling of older homes can occasionally cause uneven walls and floors. Baseboard trim will compensate for these types of differences as long as the top panel markings are level.
Pre-cut Panel Kit Installation
Good measurements are important when using a pre-cut panel kit. Proper installation requires that the placement markings are level. Using a chalk line and a measuring tape, mark the walls where the top of the pre-cut panel will be placed. The first step is to install the baseboard trim, which in many pre-cut panel kits has a groove to assist in holding the panel in place until it is secured. Once the proper keyhole cuts, cuts made to accommodate electrical outlets, the panels are placed on the wall using finishing nails and adhesive.
Finishing
The top molding is installed after all the wainscot panels are in place. Oak panels should be stained before installation. Allow the panels and trim to dry completely prior to installation. Staining and clear coating the wainscoting is the most time consuming task of installing oak wainscoting.
Choosing to install
wainscoting
when redecorating can transform an ordinary room into an elegant place to relax. The cost of installing wainscot is often considerably less expensive than completely refinishing wall surfaces using drywall, plaster or wallpaper.
Return to Wainscoting page.
Return From Oak Wainscoting to Home - Finishcarpentryhelp.com
.
---