Porch Railing
Facts and Ideas for Porch Railings
6-Ft. Square Railing Section Kit - Dw100 6Ft. Wh Sq Rail Sec Kit
A porch railing can be plain or fancy, made of wood, metal, vinyl or composite materials. The materials may be natural or synthetic. Most companies carry a variety of different materials that differ in quality, workability, durability and appearance.
Porch railings can be decorative or purely functional. They can be installed by carpenters, contractors, handymen or the do-it-yourselfer.
In some localities, there are building codes to consider. An urban community may have regulations regarding the materials, heights, width or placement of the rails.
Special accommodations may need to be made for handicapped or disabled individuals. A building permit may be required for any job, indoors or out.
If you have decided to do it yourself, rather than hire a contractor for your railing, you will want to decide on a material and work up a design before you visit the home improvement store. Some materials are better suited for indoor use, while others are better suited for outdoors, although most can be used inside or outside a building.
Stainless steel and aluminum are typically used outdoors. They may be coated with colored PVC or painted. The PVC coated metals have a longer lifespan and require little or no maintenance. It may only be necessary to change them when you decide to redecorate.
Genova Building Products DWS200 T-Rail Stair Section
These railings are traditionally composed of natural wood. But, plastic and composite materials are becoming increasingly popular. Natural wood can and should be treated to be resistant to termites and rot. But, even treated wood can succumb to the elements.
Natural woods must be sanded, cleaned and painted with a primer coating. Once the primer has dried, several coats of paint may need to be applied. It is best to choose an outdoor paint, rather than an indoor/outdoor type. Acrylic paints dry faster and are more resistant to handprints and dirt. They are also easier to clean, but they can chip relatively easily.
4x20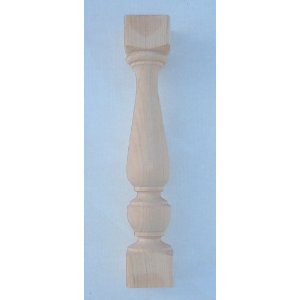 4x20
Plastic and plastic coated metal porch railings comes pre-painted. So, installation is the only step required. The rails are usually attached to columns or tall posts that mark the entrance of the front porch. Corner posts, obviously, sit against the corners and are used as anchors.
The design may call for another half-post or short newel to be attached to the house's wall. If there is a long distance between the entry posts and the corners or the corners and the house wall, short support posts may be used for added stability in this railing.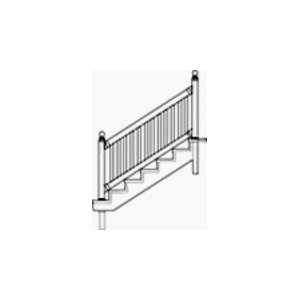 Genova Building Products DAS100 Square Stair Rail Section
Remember that your front porch railing is the first thing that your visitors will see. With the right material, design and installation, you can make a good first impression.
Return to sitemap page
.
Return From The Porch Railing Page to Home - Finishcarpentryhelp.com
.
---