Porter-Cable Belt Sanders
Porter-Cable Power Tools - the power within!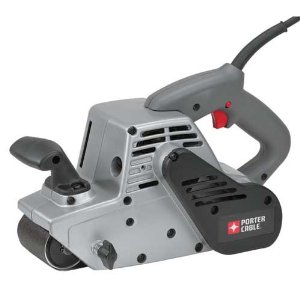 Porter-Cable 361 12 Amp 3-Inch by 24-Inch Belt Sander
Porter-Cable Belt Sanders stand out from the peer group in their skillful performance and ability. The Handy Magazine's Innovation award in 2006 is the ideal boost for the wonderful features. Porter-Cable power tools has been the fore-runner in design and quality and their state-of-art centers build the best indeed!
These Porter Cable Sanders are indispensable for the woodworker in their job of removing large amount of wood, metal from wood. They are used for finishing purposes. They consist of an encased electric motor and has a strip of sandpaper mounted on it. This runs in a circular way and is held firmly. Belt Sanders sands wood furiously, so care has to be taken while using them. The Variable speed is a good feature since it is useful to adjust speeds. At lower speeds, the wood worker could plan to stop to make a flush finish.
Porter-Cable Belt Sanders have many models to sand wood. The belt size of 3"x21" Variable-Speed sander, the 4" ×24" variable-speed sander, the 3"x24" sander with and without variable speed and the 2-1/2"x14" compact belt sander are some of their products. All their products have 120V AC power and have user-friendly ergonomic designs.
Let us briefly look into Porter Cables most preferred products:
3"x21":
The design has good power and at the same time control. Powered by 8 Amp motor, the variable speed dial is between 850-1300 SFPM. The dust bag swivels 360°. The front handle and the belt adjusting knob are thoughtful features. Changing belts are easy. This model has the motor located over the platen thereby improving performance and perfect balance. The main disadvantage in the model is the dust bag which is smaller in size and its obstruction during the usage. The design also restricts it from being used as a stationary model.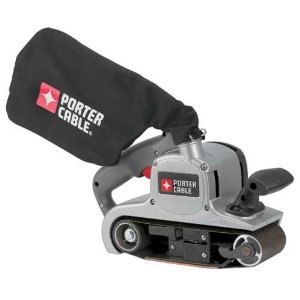 Porter-Cable 352VS 8 Amp 3-Inch-by-21-Inch Variable Speed Belt Sander with Cloth Dust Bag
4"x24":
It's solid, smooth and aggressively sands even tough surfaces. Has a powerful 12.0 amp motor. The variable speed allows belting adjustment of 1000-1500 SFPM. This has 360° swivel dust collection bag.
The main disadvantage of this model is that it cannot be trusted for small jobs and its noise. The variable speed aspect is not a useful feature. Sometimes the dust collection area clogs severely.
Porter-Cable 363 12 Amp 4-Inch by 24-Inch Belt Sander
2 1/2"x14" belt:
Its compact design helps to be used in small, confined spaces. For Installers their weight and performance help especially used in ship building industry. Their low center of gravity balances it in all directions. Metal components provide maximum durability. There is a removable dust port available.
The biggest disadvantage is that the portions of the chassis become quite hot within few minutes of operation, making it very hard for the wood worker to work without wearing gloves during operation. The plastic knob that is present for Belt adjustment forces users to adjust tracking during motion and also hurts the operator.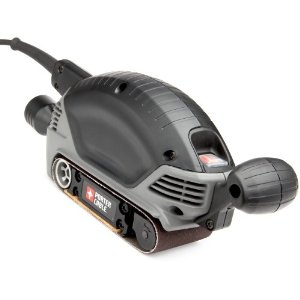 Porter-Cable 371K 2 1/2 by 14-Inch Compact Belt Sander Kit
Porter-Cable belt sanders are the true professionals in this business, being the first to invent it and their versatility needs to be appreciated.
Return To Main Tool Reviews Page
Return From the Porter-Cable Belt Sanders Page to Home - Finishcarpentryhelp.com
.
---