Prehung Interior Doors
Here Are some Differences Of Prehung Doors You Should Know
For a reference guide to this aspect, visit
hanging doors
. This page covers the key aspects of proper measuring and basic finish carpentry information that a do-it-yourselfer needs to understand prior to even attempting installation of a prehung interior door as a solo project.
This can be a tricky business if you do not know the process. To see the whole procedure, visit
installation process
for an informative description.
When you go to purchase prehung interior doors, it is a good thing if one side of the door is pre-trimmed. If pre-trimmed is not offered or the difference in price is too significant, it may be less expensive to buy the door casing material separately. This is perfectly acceptable. Whether you are performing the work yourself or contracting it out, you want to save as much time and money as possible.
Hollow Core Doors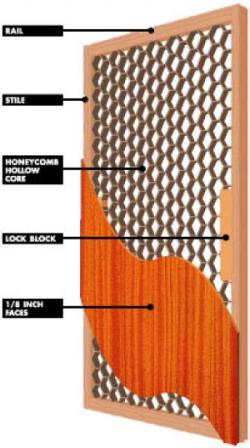 Darpet Doors
One of the most cost effective choices are hollow core prehung interior doors. These are still extremely durable as well as popular. Additionally, these doors are light in weight, simple to install and add an elegant look. If a more decorative look is your desired outcome, raised panel variations are available at affordable prices as compared to solid core doors.
One thing about hollow core raised panel doors is the fact that they are essentially stamps that look like genuine, but lack detail seen in real raised panel doors. Hollow core doors also provide somewhat less sound insulation as compared to solid core doors.
Hollow core doors are made of two pieces of veneer type plywood for each side with cardboard strips that help keep the veneers evenly separated. Solid wood around the outer edges completes the door's construction while holding the veneers in place firmly and uniformly. Price is no indicator of strength, however, as hollow core doors can last for several years and will hold up under normal use and wear very well.
Several varieties of wood are used to make the veneers. Some of the most common are Oak, Maple and Mahogany among a few others. Hollow core prehung interior doors are stainable and can be tinted to match the rest of the woodwork in the house.
This type of door can also be painted. If you go that route, I suggest you go with lower cost wood species.
The Solid Core Door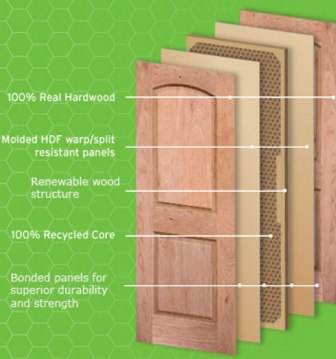 Alamo Building Specialties
The other more expensive higher end prehung interior door is the solid core door.
These doors are not one solid piece of wood, though. The name tells you it is a solid "CORE" door. This means that the center of the door is solid and can be made of any of a number of materials like particleboard or steel. This makes them very heavy at times.
The core is then covered with a wood veneer. This resembles hollow core doors and is designed to be reminiscent of solid wood doors. The construction of solid core doors closely replicates doors made of solid wood material in both weight and sound insulation. This type of door is also available in a broad spectrum of wood types and design styles. IN my experience, the most common solid core door style is the 6six panel prehung interior door.
Installing prehung interior doors of this type takes a little extra effort due to their weight. Very simply stated, solid core doors are heavy. Be careful selecting the proper replacement prehung door, too. If replacing a hollow core door with a solid core door, the frame has to be fastened securely to accommodate the weight of the new door. Hollow core doorframes are typically nailed in place; solid core doorframes must be screwed in place.
Solid core prehung interior doors have other benefits, too. For instance, they add dollar value to the home when selling.
The Solid Wood Door
If you want the top of the line, go with solid wood prehung interior doors.
Solid wood doors are evident in older architecture, such as old courthouses or bank buildings. Dating back to the 17th century, solid wood doors are extremely elegant and can be very ornate. A variety of styles are available including First Period English, French Colonial, Spanish Colonial, Dutch Colonial, German Colonial, and Georgian Colonial doors. All have their own unique characteristics.
Solid wood doors are just that; a door that is wood all the way through, top to bottom. No heavy core to add weight and solid for more durability. The weight of a solid wood door is dependent on the wood species selected. Woods have varying densities that affects the weight. These doors are heavier than hollow core doors, so the frame needs to be screwed down for added stability.
One aspect of solid wood prehung doors is that they can be either painted or stained. Add your favorite stain tint to match the other woodwork in the room or sand, prime and paint, if you so choose. Usually, solid doors are stained as paint tends to take away from the look of the natural wood.
Return From Prehung Interior Doors page to Home - Finishcarpentryhelp.com
---