Rubber Baseboard
Versatility and Cost Effectiveness with Rubber Baseboard Material
Using rubber baseboard material can be versatile as well as cost effective. The finishing carpentry is always about aesthetics in that you want the completed job to look nice and professional. This is true even for the amateur carpenter or home remodelers out there. Using flexible molding like rubber baseboards offers that like no other.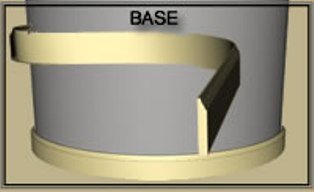 BY TRIMSTER
This type of baseboard material can be purchased at most any hardware store, or do-it-yourself center. It is plentiful, easy to come by and very simple to work with. You will find rubber baseboard material in various widths and thicknesses, so the perfect size is usually available readily. It is also available is a variety of colors as well.
One of the main features of rubber is that it is easily contoured to fit any wall or other structure it is used to adorn. This is especially the fact where curved walls are concerned. The flexible molding can be bent or even stretched a bit (not TOO much) to make it fit a tight area. The result is a professional look and a happy customer overall when the job is done.
Flexible rubber baseboard material comes in many colors and is able to be absolutely matched with the color of the wall. Whether the finishing carpenter wants to match the wall color precisely or accent it with an offsetting hue, you will find this to be an easy feat with flexible molding. Even the most finicky of customers can be extremely pleased with the outcome as I have seen many times.
BY TRIMSTER
But the REAL benefit of rubber material is the cost. It is significantly lower in cost than most wood baseboards. In some cases, this can be as much as 400% or 500% cheaper depending on the quality of the wood. If you have ever shopped for baseboards in fine woods like teak or ebony, you know what I am talking about here. This is definitely not to say that rubber baseboard material is cheap; just lower in cost.
The same quality and completed feel and look of the work is there, too. There really is no difference in the appearance of rubber and wooden baseboard materials. Most times, the wood baseboards are painted anyway. In this case, the material doesn't really matter unless the client has a preference. So when working on a job you have bid on and are confined to a specific cost factor, the finishing carpenter can increase his margin very nicely.
BY TRIMSTER
All baseboards are used at the juncture of the wall to the floor. Small errors in cutting, slivering from driving nails or hammer marks near the bottom of the drywall or paneling can be easily concealed using rubber baseboard. We all have left an unwanted mark on drywall, so you know what this means. Using the baseboard is aesthetically useful as well as pleasing to the eye.
All these benefits are yours for the asking when you opt for rubber baseboard material for your finishing carpentry job(s).
Return From The Rubber Baseboard page to Home - Finishcarpentryhelp.com
---