Safety Glasses
Eye Protection Safety Glasses are Essential for Your Eyes
Safety Glasses at Amazon
Safety glasses are designed for eye protection and the areas around them from external objects like water, chemicals, and sparks, flying particles or harmful rays. They are used on activities like working in a chemical laboratory, woodworking and working with power tools like drills or chain saws. They are also used by pilots of open cockpit planes and in snow sports. These glasses are essential for people dealing with high intensity lasers. Swimmers in oceans or swimming pools using chlorinated water have to wear these glasses for protection.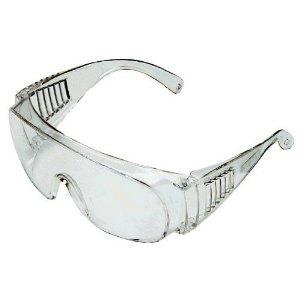 MSA Safety Works 817691 Over Economical Glasses, Clear
The designs of these glasses depend on their use. For glasses used in cold weather there are two layers of lens to prevent the inside of the lens to become foggy due to the condensation of water vapor, as in a single lens. In the two lens combination the inside lens being close to the body is warmer and prevents water vapor to condense. If water vapor gets in between the lenses the condensate would be almost impossible to be removed. The dual layer lenses must be air tight and so need precision engineering to fabricate.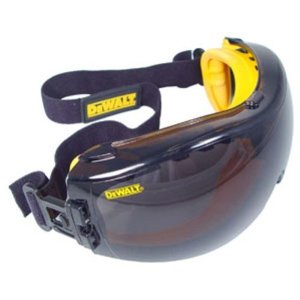 Dewalt DPG82-21C Concealer Smoke Anti-Fog Dual Mold Goggle
Eye protection safety glasses used in swimming must be water tight to prevent saline or chlorinated water to irritate the eyes. These allow swimmers to see clearly whole underwater. However, these are usable only up to a few feet below water. Beyond this water pressure press the glasses too tight against the face.
Glasses used for power tools operation have to be made from unbreakable material like plastic including CR 39 and polycarbonate. These goggles need to have some ventilation to prevent sweat from forming inside the safety goggles and blurring vision.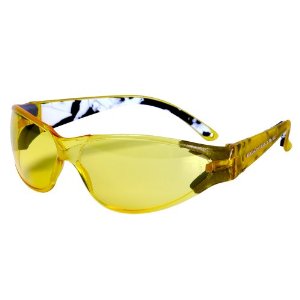 Body Glove 90380 V-Line High-Impact Glasses, Yellow Frame, Yellow Lens
For laboratory work, where chemicals or laser activity is involved, these glasses used to have impact resistance properties as also side shields to protect eyes from chemical splashes. In sports like Racquet ball the glasses are required to withstand impacts from hard balls of rubber. In winter sports the glasses have to protect the eyes from glare and icy particles thrown up from the ground. For motorcycle riders and in some other open air activities, these glasses are worn to keep out dust or insects from the eyes.
These glasses are indispensible for people handling lasers at high levels. Exposure to laser beams may cause harm to the eyes which must be adequately protected. While performing laser surgeries or laser skin resurfacing the surgeons must wear these glasses to protect their eyes from flashback.
For manufacture of laser safety glasses the manufacturers have to attain a high level of craftsmanship to conform to ANSIZ136 series of standards. Only products conforming to these standards are permitted for use in medical field involving use of lasers. For use in educational field, the glasses should have the ANSI stamp on them. If used outdoor the goggles should have ANSIZ136.6 mark.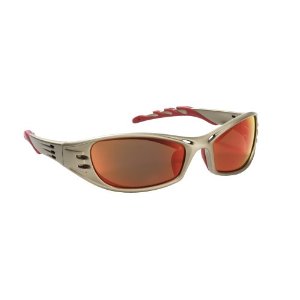 AO Safety 90987 Fuel High Performance Glasses with Titanium-Colored Frame and Red Mirror Lens
When you select a pair of safety glasses you would come across a large variety of filters and frames to choose from. It is always advisable to check different brands before making a selection.
Return To Main Tool Reviews Page
Return From the Safety Glasses Page to Home - Finishcarpentryhelp.com
.
---