Senco Air Compressors
Senco Air Tools - Safety convenient operations guaranteed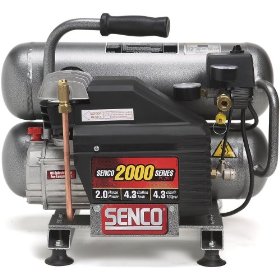 Senco Air Compressors at Amazon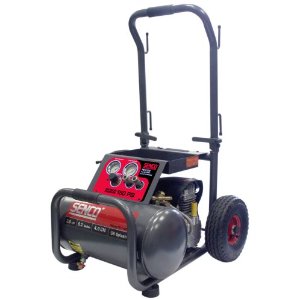 Senco PC1108 Compressor, 2.5 Horsepower (Peak), 5.2 Gallon
Trust Senco tools for producing quality air compressors which are tuned to the contemporary customer needs. Their commitment has been rewarded with #1 ranking in Quality by the Builder magazine in 2004. Their 50 year presence has assured them leadership in fastening solutions. The Senco team of professionals pledge to safety adhering to the ANSI standard SNT-101-2002 for power tools. Senco Air compressors are a contractor's best allies as so much of research and effort has been made to suit their requirements.
Air compressors are wonderful companions to package air and produce pressured air that is forceful and aids pneumatic tools, for chemical industrial plants, manufacturing processes and even for everyday requirements.
Senco Air compressors come in two different propositions Hand Carry compressors and the Wheelbarrow compressors. Obvious from the name, the Hand carry compressors are lightweight, compact and ergonomically designed to balance and work to provide the operator comfort during his work. The Wheelbarrow design facilitates easy portability; could be used for running multiple tools simultaneously. They find their applications in Framing and Sheathing, Roofing and Decking, Finish jobs and Trimming.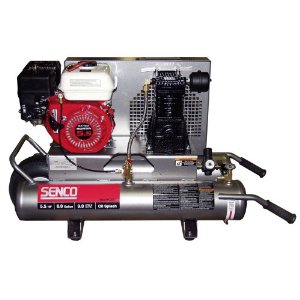 Senco PC2017 8-Gallon 5-1/2-Horsepower Gasoline Air Compressor
These air compressors have outstanding features which offer the following:
1. Dual action switch:
Depending on the application this Dual action switch can be operated, either one could start/ stop or tuned to "constant run" (for paint application)
2. Cast Iron Cylinder :
All wheelbarrow compressors and one model of hand carry compressors are made of cast iron providing durability
3. Cold weather start valve:
Colder weather makes a slower start, to combat this issue, the valve vents air to warm up, which is pumped into air tanks. Cold air can also cause circuit breaking problems.
4. Reset Switch:
Whenever there is an electric surge above the 15 amps, the Reset Switch comes to aid to restore work. This is not present in other manufacturers.
5. Belt Tightener:
The presence of Belt Tightener makes replacing and tightening the belt an automatic task.
6. Pneumatic Tires:
To move around the job site, this is an exceptional feature.
7. Heavier metals used for Gauge:
Durable metal used for air tanks, belt guard and the connecting rope between two tanks.
8. Air Shroud:
A special feature on wheelbarrow compressors which ensures that heat is dissipated quickly.
The applications of these senco air tools vary depending on the characteristics of the model. To operate an Upholstery stapler, Brad nailer or finish nailer the portable model producing 2.0 CFM could be used. To operate a Sheathing stapler, Framing nailer or Roofing nailer the portable model with 4.0CFM needs to be used. Wheelbarrow design with above 6.0 CFM helps to operate 2-4 large tools.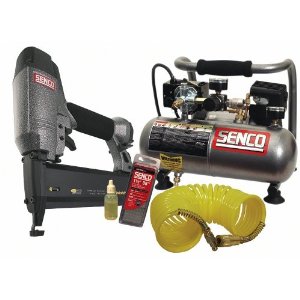 Senco PC0947/FP18KIT 18-Gauge Brad Nailer Compressor Combo Kit
There could be room for improvement in these Senco Air compressors too. They could use ball valves with levers to release tank air. The gauges present and the pressure switch could be accidentally pummeled while travelling from one job site to another, so it is better to protect them for a long prolonged use. Senco tools indeed have been the constant recommendation among its peers - never miss it!
Return To Main Tool Reviews Page
Return From Senco Air Compressors Page to Home - Finishcarpentryhelp.com
.
---