Wood Baseboard
Wood Baseboard Adds That Nice Wood Finished Look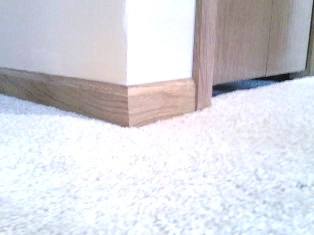 Many finish carpenters have an affinity for natural wood trim. There are several reasons for this, but the main one is appearance and beauty. Using natural wood trim to finish the wall work is very common and is the choice of a great many customers. Wood trim is available in a variety of wood types and sizes, so the perfect choice for your job is obtainable.
First, all types of wood are available in baseboard material. The most common woods are pine, oak or cedar. Then there is maple, spruce or other relatively low cost natural woods. These wood types are common and available readily at the lumber yard or hardware center. Other more expensive woods to consider are redwood, mahogany, teak or ebony. It really is just a matter of choice between you(diy'er) or your client/customer.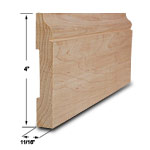 The Crown Molding Shop
The nice thing about natural wood trim is that it comes already routed or decoratively tooled for aesthetics. This makes it a time saver for the carpenter as he/she will not have to take the time to do all that woodworking. It also can be purchased in pre-finished or plain varieties, so you can get wood baseboard trim ready to install or to be custom finished on the job site. Either way, the carpenter can find what is required easily.
Wood baseboard is usually sold in lengths of 16 to 20 feet. So it is possible to trim an entire wall section with one or two pieces of material, saving on cutting and measuring. Of course, this depends on the length of the wall, but typically, that is the case. Wood material can be mitered at the corners, too, so the corner joints are tight and seamless.
The real choice to be made is width and thickness. Depending on how prominent you want the baseboard to be, these dimensions are the most critical. Wood baseboard is sold in widths from about an inch and a half (1 ½") to as much as 5-6" in width. This is nice for the carpenter because the baseboards can be purchased after the wall is done, so if there are any tooling marks (hammer divots, chips, etc…) near the bottom of the wall/floor juncture, the baseboard can be utilized to conceal that.
Thicknesses run from around 3/8" to 3/4 " thick. Again, this is a profile question and can be adjusted to conceal any irregularities where the wall meets the floor. To avoid hammer scars, it is suggested to use a nail gun when fastening the wood baseboard to its final position.
Either way the choice is made, natural wood adds beauty and character to the finished work. The wood can be primed and painted (if desired) or stained to match and augment the color of the wall. This material is easy to work with and install. The only drawback to natural wood trim is the imperfections in the wood, though these may be viewed as character as well, especially where a rustic, rugged motif is the desired outcome.
Return From The Wood Baseboard page to Home - Finishcarpentryhelp.com
---