Cutting Baseboard
Instructions For Cutting Baseboard Molding At Outside Corners
Cutting Baseboard molding for a 90 degree corner is a snap compared to the other corners. Just to clarify I will sometimes refer to baseboard trim or molding as base.
Instructions
First measure the length of the wall where the next piece of baseboard will be going up to the outside corner then add about 2"to 3" past the corner.


Transfer this measurement to the wood. Then make the appropriate joint on the starting end of the base whether it be a square cut, cope or outside corner.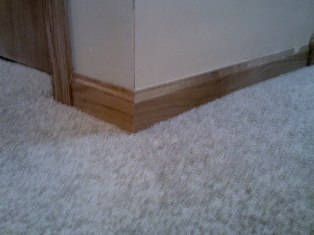 Put the piece of base molding in place against the wall. Make sure the starting end is tight and looks good whether its a cope or some other type joint. Your piece of base should be an inch or two long past the corner.


Draw a pencil line up the back of the baseboard following the corner of the wall.


Back at the miter saw you set this piece on the saw but the finished side goes against or towards the fence.


Move the handle for changing the degrees of the saw towards the long part of your wood, stopping at 46 degrees.


Cut the base at this angle leaving your pencil line on the wood. In other words cut next to the line but don't cut the line off. This piece is ready to be nailed.





Using The Degrees To Your Advantage

Use 46 degrees on both sides of the 90 degrees corners. You may need to play with these degrees at times depending how bad the corners are. Starting with 46 degrees on one side always works on a 90 degree corner.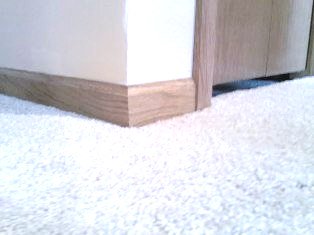 Cutting baseboard for a 45 degree outside corner works the same except the degrees change. The degrees for a 45 degree cut would be 23 or 24 degrees for the cut next to your line. If you have corners other than 90 or 45 degrees figure out what the degree of the corner is divide in half and add one and this would be the angle to cut your base at.


Shoot your nails in appropriately to tighten up the corners. For trimming an inside 45 degree corner click here installing baseboard trim.

Return to Baseboard Installation Page.

Return From Cutting Baseboard page to Home - Finishcarpentryhelp.com.








---