Building Stair Hand Railings?
Recently I have compiled an eBook which is a step by step guide for building stair hand railings. This guide could potentially save you some serious money as to the numerous areas where mistakes can be easily made while in the process. Many so called experts in the field of finish carpentry lead people to believe all over the web that a homeowner or a do it yourselfer can't accomplish a project of this type.
Well I am living proof that they can. I learned this trade pretty much on my own and since have built hundreds of these hand railings. Yes, building a stair hand railing can be a big and complex job and some situations are tougher than others but I would not go as far to say it can't be done by an average person. And yes if you jump in head first not knowing anything about building one you are going to run into some very difficult situations.
Figuring out all the angles, precise cuts and OSHA codes that need to be implemented can be very daunting and very quickly put your project and attitude in an order of dismay. This step by step eBook will guide you through the process and answer these precise questions along with many others that involve the process of building a stair hand railing.
Build Your Own Hand Railing E-Book
Money Back Guarantee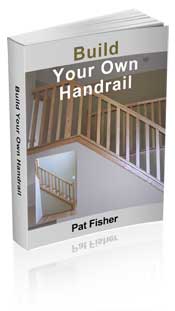 Click Here
To Receive Instantly !!
Challenges to the Different situations
Now there is no way I could write about every particular situation and the many different areas and styles of where railings are built but all the principles can be applied to almost any situation. Every single hand railing I ever built posed its own little challenge and every single one is just a little bit different in one way or another.
One big difference worth mentioning is, in this eBook I describe how to build a hand railing on top of a knee wall. A knee wall is a short little wall next to the steps. In this type of situation the balusters are attached to a bottom rail which in turn is attached to the top of this knee wall. A lot of times in some situations stairways don't have this knee wall and the balusters get attached directly to the steps themselves.
In the process of building stair hand railings there is no doubt you will run into some differences such as this. The directions from the eBook will still apply and the principles are the same you would just be attaching the balusters in a different manner. The price of this Ebook is only $12.99 and is a small investment compared to the over all cost of all the materials and will absolutely save you time as well as costly mistakes.
Return to sitemap page
.
Return From Stair Hand Railings Page to Home - Finishcarpentryhelp.com
.