The Positives and negatives of wooden beds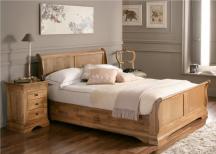 Everyone needs a bed. Of course depending on the kind of room that you have, the type of bed that you want will vary widely. Many of us are rather lost in the old traditional, or if we're more of the romantic sort, we like the look of the antique brass bed. Aside from those or the steel, or frameless bed, there is only one real choice to make and it is probably, due to the wide array of styles, your best bet for a new bed.
The wooden bed comes in styles that range from the very traditional, to the very minimalistic, to very ornate, or even romantic Victoria. The wooden bed has some distinct advantages over nearly every other type of bed that you're going to get.
The wooden bed is available in so many different styles, but each of those styles are also typically available in multiple different types of wood.From oak to ash, to cherry or even mahogany, wood always looks great.
What is more lovely than a very high backed wooden bed. If you build them yourself you can get the exact shade and style that you want. In addition you might also consider a custom headboard and bed frame. Many styles of bed come in custom wood, with certain statements or family logos or crests either painted or wood burned onto the headboard.
The many pros of a wooden bed in your room include:
The wide range of choices in wood and in style. From spindle beds to beds which are shaped like a sleigh, you can't beat the versatility of wood. IF the precise shade of wood that you want' isn't available to you, you're easily able to stain the wood to get that shade and color.
Since wood has been available since literally the dawn of time, you're far more likely to find an antique bed that you want in a style that you'd like in an antique as well as a modern built bed. Getting the look that you want is easier if you're into antique or even antique look because wood is easy to work with. This means that you're typically going to pay a little less for a wood bed too, although a great deal depends, of course, on the style that you want.
Wood is a natural item. By using wood, particularly when buying a used wood bed that you find to match up with your style and tastes, you're living a greener life and preventing the use of some types of manufacturing processes that are more harmful to nature.
Get into a new wooden bed by checking out the styles and types that are available to you at
Time For Sleep.co.uk
Time for Sleep beds can be found at
www.time4sleep.co.uk
.
Return From wooden beds Page to Home - Finishcarpentryhelp.com
.
---