Baseboard Trim
Types and Choices for Baseboard Trim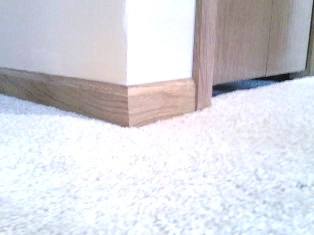 Baseboard adds the finishing touches to your wall work. The type of trim you decide to use is entirely up to you(the diy'er); or possibly based on the instructions of your client. There are several types of finishing trim available in a variety of materials and sizes to fit any requirement. The one selected should positively accent the wall in both color and size.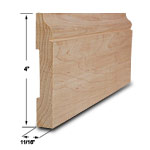 The Crown Molding Shop
Natural wood baseboard is the choice for applications where paneling or wood grain wall material is used. Just about any type of wood can be found including pine, cedar, oak or maple. For fancier jobs, you may opt for ebony or redwood, just to name a couple. Wood trim material can be painted or stained to match the rest of the work. It is also very rigid, cannot be bent, and so is only suitable for straight wall applications.
Wood baseboard is purchased in lengths of sixteen to twenty feet. When you go to buy it, you will have to decide what thickness and width you want as well. Wood trim starts at around 3/8" thick and 1 1/2" in width. The width is the height from the floor up. Depending on the look and profile you are seeking, this is an important choice.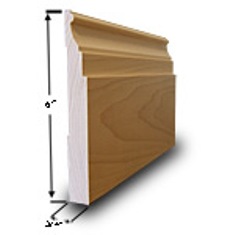 Another type of baseboard is MDF or Medium Density Fiberboard. This is made up of thin sheets of wood or wood particles that are glued together under extreme heat and pressure. This is a very affordable option and is available widely in hardware stores and home improvement centers.
MDF baseboard material
is a common choice among finishing carpenters.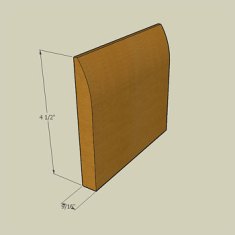 The MDF material is purchased in pre-cut lengths and sizes as wood baseboards are. The difference is that it is a little more forgiving and can be contoured a bit for that odd shaped wall. This type of baseboard trim can be obtained in a plain finish or already primed for painting. It can be cut, mitered and treated the same as natural wood. MDF is a cost effective choice as well as good for amateur do-it-yourselfers.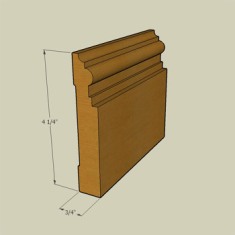 Baseboard trim is also available in rubber.
Rubber baseboard material
is very easy to work with and is used wherever a little contouring is called for, making it a nice selection for walls that are curved or odd shaped. This type of material can be cut readily and is very versatile for that reason.
Usually, rubber baseboard trim is purchased in small rolls of about 50 feet or so. This makes it possible to install with no seams between pieces of baseboard like you would have with wood or MDF materials. What you end up with a single, continuous baseboard along the entire wall length. Rubber baseboard material can be painted or purchased in colors to match the rest of the work done.
Always make the decision on which baseboard trim to use before the job begins. Whether you opt for natural wood, MDF or rubber baseboard materials, the finished job will reflect your expertise and professionalism.
Return From Baseboard Trim page to Home - Finishcarpentryhelp.com
---